The content is accurate at the time of publication and is subject to change.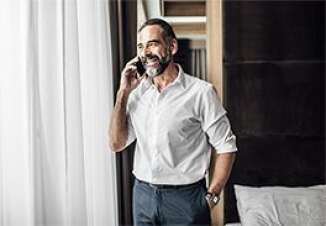 Business credit cards earn rewards too, and now people who get the Marriott Bonvoy Business American Express can get a bigger bonus until October 23, 2019. With the bonus upgrade, they can now get 100,000 Marriott bonus points once they spend $5,000 with their new card. They must meet this spending threshold during the first 90 days they have the card.
With the Marriott Bonvoy Business credit card, people also keep earning points after they get their bonus points. When booking stays at Marriott Bonvoy hotels they get 6X the points. But that's not all they earn quadruple points when eating out at restaurants and pulling up at gas stations as long as they are located inside the United States. They also earn the quadruple points when paying for U.S. based wireless telephone services, as well as when paying for shipping within the United States.
All other purchases get them double points, whether they are picking up a latte, booking a flight or paying for anything else.
Free nights and complementary silver elite status
Cardholders get one free Night Award each and every year after their anniversary. They can also pick up an additional Free Night Award once they spend $60K with their card during the year. These free nights can be cashed in for a single night at hotels taking part in this promotion. The redemption level in play for this promotion is 35,000 Marriott Bonvoy points.
Cardholders also automatically get Marriott Bonvoy Silver Elite status for free as soon as they get their card. Then once they spend $35,000 with their card during the year they are moved up to Gold Elite status, which lasts until the end of the year. Also, every year cardholders get a credit for 15 nights, which can be used to move up to the next level of Marriott Bonvoy Elite status.
Other extras
Cardholders can also access a variety of benefits including the Spend Manager Mobile App from American Express, which lets them quickly add receipts and notes to their day to day transactions, so they can keep track of their spending. For instance, they can take a photo of their receipt, and then include it with the transaction.
They can also set account alerts, manage their account and give employees credit cards to make doing business easier.
People looking for more information about this card can visit the website.