The content is accurate at the time of publication and is subject to change.
This content is not provided by Citi. Any opinions, analyses, reviews or recommendations expressed here are those of the author's alone, and have not been reviewed, approved or otherwise endorsed by the Citi.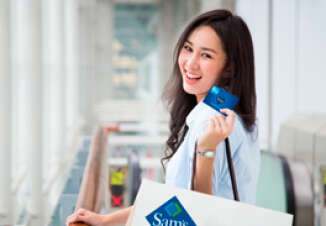 Last February American Express and Costco split, ending their 15-year relationship. Now Amex has brought Sam's Club, the eighth largest retailer in the U.S. into the fold. This new partnership means that Sam's Club will start taking Amex cards on October 1 at over 650 outlets located throughout the U.S. and Puerto Rico.
The new partnership is seen as a win-win for both Amex and Sam's club, as well as for consumers who can now get a deal and earn rewards with their Amex Cards, whether buying electronics, housewares or clothing. "We are constantly looking for ways to expand the places where our Card Members can shop and bring more convenience and value to their everyday lives," said Anre Williams, President, Global Merchant Services at American Express.
The split with Costco
Even though the split was announced seven months ago consumers won't feel the pinch for a while, Costco will still be accepting American Express credit cards until March 2016. For the last 15 years it has been the only card accepted at the warehouse retailer. Like many marriages, the reason for the breakup was given as irreconcilable differences.
In April 2016 Citi cards will be the credit card of choice at Costco, so shoppers should not head out to Costco without their Citi card unless they are planning to pay with cash.
More from Amex
While the new Sam's Club deal is a way for Amex to recoup the loss of Costco business, they have also launched a series of partnerships and other initiatives, including the rollout of Plenti, its own customer loyalty program. While designing the program they partnered with leading retailers, including Rite Aid, Direct Energy, Hulu, AT&T, ExxonMobil, Macy's, and Nationwide. People who sign up for Plenti can earn rewards, as well as get access to special deals and promotions.
Sam's Club is a part of the Wal-Mart Stores, Inc. family, and offers consumers access to wide range of products. It is a members-only retail store with millions of members.