The content is accurate at the time of publication and is subject to change.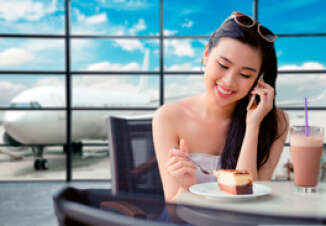 American Express platinum cardholders can now relax and refresh at the Centurion Studio at the Seattle-Tacoma International Airport (SEA). The studio is a part of the Centurion Lounge network, and while its smaller and more intimate, it has plenty of amenities ranging from artisanal beverages to Seattle-inspired light fare.
The new Centurion Studios are seen as a way to give cardholders access to spaces where they can kick back. "Many of our Platinum Card Members travel and enjoy the Lounges so often that we wanted to bring this unique Lounge experience to more places, including airports with smaller available spaces," said Lisa Durocher, senior vice president of Charge Cards and Benefits, American Express. "Just like The Centurion Lounge, The Centurion Studio offers great food and beverages in a comfortable setting to relax and recharge."
Small spaces pack a wallop
The Centurion Studio was designed to provide cardholders with access to travel essentials, including free Wi-Fi, comfortable seating, and charging stations, but they can also have a light meal and relax with a glass of wine or a beer.
Many of the food choices come from the local cuisine scene. People will be able to build their own breakfast with ingredients that are Seattle centric, including Marge Granola, Anna's honey, and Ellenos Yogurt.
When traveling who doesn't need a snack? Well in the Centurion Studio in SEA people can snack on artisan baked breads by Macrina Bakery, chocolate by Theo, and Tims Cascade Chips. Seasonal fruit and crisp crudités with hummus will also be on hand for those looking for a healthier snack. Locally-brewed Caffe Vita will be on hand for the coffee lovers and a pick me up.
Location, hours and the details
The Seattle Centurion Studio is the first one in the Pacific Northwest, and can be found in Concourse B opposite Gate B3. It is open from 5a.m. – 10p.m every day, and because the setting is more intimate only Platinum cardholders and Centurion members can gain access. They can also bring their immediate family, which means spouse or domestic partner and children under 18 years of age.
People cannnot buy day passes for the studio and passes bought at other locations cannot be used at The Centurion Studios.
Currently there are Centurion Lounges located at New York's LaGuardia Airport (LGA), Las Vegas McCarran International Airport (LAS), San Francisco International Airport (SFO), Dallas/Fort Worth International Airport (DFW), and Miami International Airport (MIA).
For more information visit the The Centurion network website.