The content is accurate at the time of publication and is subject to change.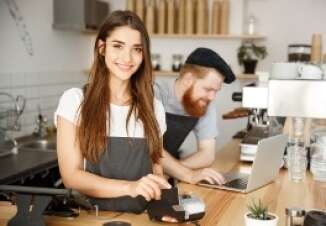 Starbucks and Chase have joined forces to roll out the Starbucks Rewards Visa Card, letting cardholders earn rewards every time they buy a latte, a cappuccino or anything else at Starbucks - and they also earn rewards on all other purchases. With this card, they earn 2 stars for every dollar spent at Starbucks and an additional star for every buck they digitally load into their registered Starbucks Card. When shopping outside of Starbucks they earn 1 star for every 4 dollars they spend.
The card also includes a bonus offer – new cardholders earn 2,500 stars with a $500 spend during the first 90 days of getting their card. People who get the card will be enrolled in the Starbucks Rewards loyalty program, which gives them access to exclusive benefits and perks.
"It's important to us to make earning Rewards as easy for our customers as possible, and the Starbucks Rewards Visa Card is a powerful tool for us to do that because of how easily it fits into their daily lives," said Matt Ryan, executive vice president and chief strategy officer for Starbucks.
"This credit card also makes every day more rewarding for Starbucks and Chase customers through the ability to quickly earn Stars and benefits - including more food and beverage Rewards for any occasion," he added.
Chase and Starbucks are expecting to roll out the Starbucks Rewards Visa Prepaid Card later in the year.
More stars, gold status, and barista picks
While new cardholders get the 2,500 bonus stars after the $500 spend, they also get 250 additional stars the first time they load their Starbucks Rewards Card, using their new Starbucks Rewards Visa Card via the mobile app.
"We want to give cardmembers who can't live without their Starbucks beverage an easy way to earn more Rewards," said Jennifer Roberts, head of Digital Products for Chase. "The Starbucks Rewards Visa Card lets them earn Stars on every purchase they make so their next cup is that much more rewarding."
Cardholders also instantly get Gold Status in the Starbucks Rewards program. What does that mean? They get access to special perks, including a gold card, monthly double star days and a reward for every 125 stars. This is in addition to the usual Starbucks Rewards program perks, including birthday rewards, free in-store refills, access to special member events, and being able to pay with your app.
Also, free Starbucks Barista Picks will land in their inbox eight times per year. These free curated food or beverage rewards are handpicked by baristas. The 8 Barista Picks will be loaded into cardholders Starbucks Rewards account.
The details
Once approved people get their card within 7-10 days, but their digital card will be available right away and loaded into their Starbucks mobile app. This is a Visa card so people can use it wherever Visa is accepted, and rewards can be redeemed at over 8,000 Starbucks locations.
There is a $49 fee for the Starbucks Rewards Visa Card. And to get more information on the Starbucks Rewards Visa Card, people can visit the website.