The content is accurate at the time of publication and is subject to change.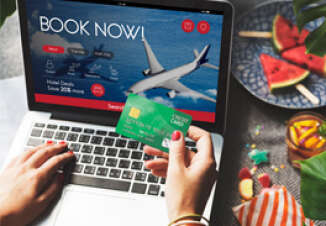 Summer is quickly approaching and many are focused on travel, but what about keeping your data safe while having an adventure? Apple Federal Credit Union wants to help travelers do just that, having released their 2017 list of top tips, suggesting that putting in some time before taking off can ensure that your trip is fun and worry free.
These tips include everything from letting your bank know you're traveling and uploading mobile banking apps to staying off of public Wi-Fi networks.
"Planning and common sense can help make sure vacation fun doesn't get derailed by criminals," explains Larry Larsen, Director of Cyber Security at Apple Federal Credit Union. "We are constantly looking for new ways to protect our members' information and assets."
"The balance is to protect them but not be invasive. For instance, Apple reissues Visa credit and debit cards at the first sign of fraud, rather than waiting for our members to discover and report the problem," he said.
The tips
Their tips include letting your back or credit union know you will be traveling. This way if you're using your credit or debit card abroad or even in a different part of the U.S. you won't set off any alarms when you make a purchase – a frozen payment card can be a real fun killer.
Before hitting the sky or the roads it's a good idea to load your financial institution's mobile app into your device. This way you can check your accounts while on the road, and contact your bank if anything odd pops up. But if you're spending time abroad you should also talk to your bank to make sure that the country you're heading to isn't considered high risk because if they are some firewalls make it hard, if not impossible, to use these apps.
Speaking of apps, the credit union suggest checking out Card Valet, an app, which lets people turn their debit cards on and off, and set limits on its use. This way you have control over spending, and get an alert if purchases are made in a location where you're not or a purchase is going over the limit you set.
Using a gift card rather than taking your credit or debit card is another way to go because it's not tied to your bank account, and it reduces your exposure to hackers.
Social media and Wi-Fi is all the rage
Public Wi-Fi networks are known hot spots for hackers, so it's a good idea to stay off of them if you can. But that can be hard when you're traveling, so if you do decide to use one of these networks, avoid hitting the buy tab when shopping and don't log into your financial accounts.
Posting your travel pics on Facebook, Instagram or Twitter can be fun, but they suggest you keep your travels off social media platforms until you get back, so that you don't tip off criminals who could rob your home.