The content is accurate at the time of publication and is subject to change.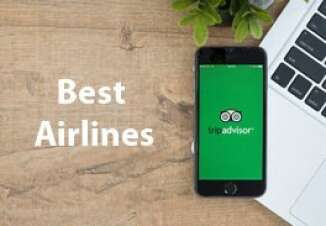 Reviews matter on TripAdvisor and they used those reviews to formulate their first ever Travelers' Choice awards for airlines. Emirates Airlines took first place in the top ten airlines in the world category with Singapore Airlines and Azul coming in second and third. Two domestic airlines made it into the top ten as well – with JetBlue taking fourth place and Alaska Airlines coming in ninth.
TripAdvisor also broke out the top airlines in other categories as well including Europe, North America, the Middle East and Africa, so travelers can see what the best airlines are in the areas they are traveling to.
The Travelers' Choice awards are a new initiative for TripAdvisor. "We are proud to announce the inaugural Travelers' Choice awards for airlines, to help travelers make the most well-informed air travel decisions, based on the experiences of the global TripAdvisor community," said Bryan Saltzburg, senior vice president and general manager for TripAdvisor Flights.
"The airline industry is investing billions of dollars in new aircraft and service enhancements to differentiate the flying experience and these awards recognize the carriers offering the very best experiences and value to the traveling public," he said.
When it comes to being tops in the world here is the full list:
1. Emirates, United Arab Emirates
2. Singapore Airlines, Singapore
3. Azul, Brazil
4. JetBlue, United States
5. Air New Zealand, New Zealand
6. Korean Air, South Korea
7. Japan Airlines, Japan
8. Thai Smile, Thailand
9. Alaska Airlines, United States
10. Garuda Indonesia, Indonesia
The best in class are in
As anyone who has flown first class with Emirates may have guessed they also were named best in first class as well as having the best economy class too.
But other airlines made it into the "best in class" category as well with the Russian airline Aeroflot taking the best business class spot. When it comes to premium economy Air New Zealand is top notch.
Best in the North America
If you're staying local and not leaving North America, you might want to know that Delta is the top airline in the region, according to TripAdvisor.
The best mid-sized and low-cost airlines are:
1. JetBlue, United States
2. Alaska Airlines, United States
3. Southwest, United States
4. Virgin America, United States
5. WestJet, Canada
To review the full list, travelers can visit the website.
The Travelers' Choice awards were given out using an algorithm that looked at not only the number of reviews but the quality of the reviews, along with the ratings that went along with them. All the reviews used for these awards were submitted by travelers.