The content is accurate at the time of publication and is subject to change.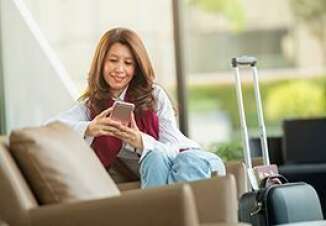 American Express cardholders with access to Centurion Lounges may well be happy to know that AMEX has teamed up with MAG USA, a company specializing in commercial airport solutions, to roll out two new lounges. The Centurion Lounge and the Escape Lounge will be setting up shop in Terminal 4 at the Phoenix Sky Harbor International Airport (PHX). They are expected to go live over the course of the coming months.
As usual cardholders with the American Express Platinum Card, as well as Centurion Members will get into the two new lounges for free because they will be part of the American Express Global Lounge Collection. Excitement is on high for both companies about their partnership and the lounges. "We are excited to partner with MAG USA to bring our Platinum Card and Centurion Members two incredible lounge spaces to visit when they travel through the Phoenix airport," said Chris Cracchiolo, SVP, Global Loyalty & Benefits at American Express.
"As Phoenix is a popular travel hub for Card Members, and home to one of the largest American Express offices in the U.S., The Centurion Lounge and Escape Lounge in Phoenix Sky Harbor airport will be the perfect additions to the Global Lounge Collection," added Cracchiolo.
The inside scoop on the lounges
The Centurion Lounge at PHX is being designed to provide cardholders and members with a variety of signature amenities, including fresh local cuisine and specialty cocktails, which will be designed by Centurion Lounge mixologist Jim Meehan. They are also including wines picked out by Centurion Lounge wine director Anthony Giglio. It will also feature semi-private and dedicated work areas.
What about the Escape Lounge at PHX? Here too American Express Platinum cardholders and Centurion Members will get in for free. They will also get access to state of the art amenities, including Silent digital library, which comes along with noise-canceling Bose headphones. They will also get access to more than 7,000 publications.
Cardholders will also be able to sample cocktails designed by mixologist Sarah McElroy, along with local wines, beers and spirits, coffee, and espresso. The menu is being curated by local chefs.
What about activities for kids? This lounge is kid friendly. They have included children activity packs in the mix, which includes Escape Lounge's Kids Crew puzzles, coloring book, and crayons.
The lounge also comes along with high-speed Wi-Fi, showers, charging stations, newspapers, magazines, business services, and television service.