The content is accurate at the time of publication and is subject to change.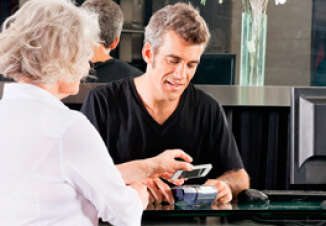 If you have any of the U.S. Bank FlexPerks American Express Cards, and have been wondering when you would be able to use them with Apple Pay, the wait is over. U.S. Bank has now added the mobile payment system into their portfolio of offerings for cardholders. This is on top of the cards they already have integrated with Apple Pay, so with this announcement all their consumer and small business debit and credit cards can be used with the mobile wallet.
Individuals with the U.S. Bank FlexPerks Reserve American Express Card, U.S. Bank FlexPerks Travel Rewards American Express Card or U.S. Bank FlexPerks Select+ American Express Card can now load their cards into Apple Pay. For U.S. Bank the addition was a no-brainier, giving cardholders more security and options, whether buying a latte or airline tickets.
"Enabling Apple Pay for our U.S. Bank FlexPerks American Express Cardmembers continues our efforts to give customers choices in how they manage payments, as well as providing them an easy, secure and private way to pay," said Cliff Cook, senior vice president for the U.S. Bank retail credit-card division. "As one of the leaders in mobile payments, we continue investing in innovation to better serve our customers today and anticipate their needs for tomorrow."
More security with Apple Pay
Apple Pay does not store peoples card information in the phone, rather it creates a one-of-a-kind device account number, which is then encrypted and stored within the phone's Secure Element. If anything happens to the phone, including if it's lost or stolen, the device can be taken out of service, so purchases cannot be made.
When purchases are made the device transmits a single-use token to the terminal so the sale can go through. This aspect adds another level of security to the purchase. Apple Pay can be used with the iPhone 6s, iPhone 6s Plus, iPhone 6, iPhone 6 Plus, iPad Air 2, iPad mini 3, iPad mini 4 and iPad Pro.
More information is available on the U.S. Bank website.