The content is accurate at the time of publication and is subject to change.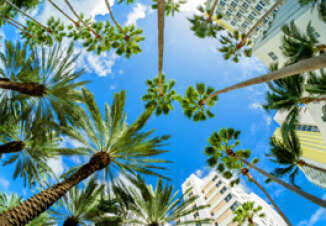 In 2017 Americans are set to do lots of traveling, and are willing to spend to do it according to the new Choice Hotels 2017 Travel Forecast. Travelers planning on taking three trips in 2017, an average which is on par with 2016 – and they report being too busy to travel more. Yet travel budgets are up by 42%. In 2016 people spent an average of $3,572 on travel, and that figure is set to jump to $5,063 in the coming year.
"Even though Americans are busier than ever, our survey reinforces that travel matters. People are willing to spend significantly more than last year to explore new places," said Patrick Pacious, president and chief operating officer, Choice Hotels International. "At Choice, we share their passion and are constantly working to meet their needs by making travel more enjoyable with diverse upscale, urban and international properties in exciting destinations."
The hot spots
Where will people be heading out to this coming year? Beach destinations like California and Florida are hot with 56% of travelers, while destinations that are off-the-beaten path (48%) are trending too, along with urban cities (47%) and mountain destinations (39%).
When it comes to the generational divide beaches and urban spots resonate with millennials, while 31% of baby boomers will be heading out to out-of-the-way destinations.
International travel is trending too, with 63% casting an eye toward Australia, which outperformed South America (38%) and Cuba (27%). Yet Europe isn't off the table with 28% saying a European getaway was in the cards for next year. The top cities were:
• Paris (21%)
• London (20%)
• Rome (18%)
Giving up coffee for travel
When asked what they would trade for an all expense paid trip, there are certain aspects of life Americans would give up with 57% being willing to do without their daily coffee fix; more than half would do without all holiday gifts; 23% would take a pass on their kid's birthday; and 24% would miss their best friends wedding day.
Would you head off to a destination for a first date? The answer is yes for 39% of Americans.
Newlio conducted the Choice Hotels 2017 Travel Forecast, with 1070 U.S. adults invited via email to take the online survey.