The content is accurate at the time of publication and is subject to change.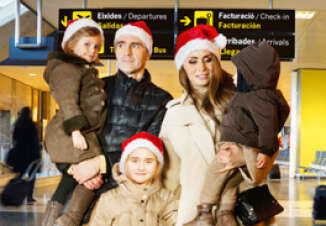 If you're heading out of town for the holidays, you are not alone. Some 45.2 million people are expected to hit the tarmac this season to visit family and friends, according to Airlines for America (A4A), the industry trade organization for domestic airlines.
Holiday revelers will take to the skies starting December 16 and keep traveling until January 5 when the New Years celebrations have come and gone. Airlines of America expects it to be smooth sailing for passengers during the 21 days of winter holiday travel.
"As we saw over Thanksgiving, U.S. airlines are well positioned to handle the increase in passengers expected this holiday season," said Airlines for America Vice President and Chief Economist John Heimlich. "Airlines' concerted and well-coordinated efforts over Thanksgiving helped ensure the traditional holiday rush was as smooth as could be for fliers, resulting in shorter security wait times and noticeable higher on-time performance rates. We expect to see much of the same this winter holiday travel season."
Upswing in travelers and seats
There will be 3.5% more people flying this season than last year, something the airlines prepared for by adding additional flights and flying larger planes.
With these adjustments in terms of flights and airplanes they have 99,000 more seats on each day across all channels, thereby accommodating the 73,000 additional passengers they believe will be traveling. Here too there is an upswing, with a 3.9% increase in airline seating when compared with last year.
Airports rocking and rolling over the holidays
The holiday hustle and bustle is expected to peak Thursday/Friday, December 22/23 with 2.4 million expected to travel on those days. And for those looking to avoid the crowds the lightest days will be Christmas Eve, Christmas Day, New Year's Eve and New Year's Day – with 1.8 million traveling on those days.
Along with the increased number of fliers, certain airports are slated to be busier than others, with the hottest ones including: Atlanta (ATL), Chicago O'Hare (ORD), Los Angeles (LAX), Dallas/Fort Worth (DFW), Denver (DEN), Charlotte (CLT), Houston (IAH), New York (JFK), San Francisco (SFO) and Phoenix (PHX).