The content is accurate at the time of publication and is subject to change.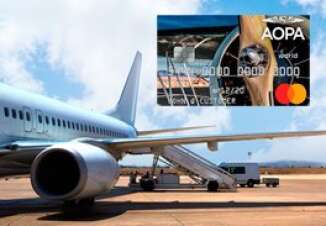 There is a new credit card available for pilots, offering cardholders up to 4 percent cash back, along with a variety of benefits that go along with having a World MasterCard. With the AOPA World MasterCard, pilots earn 4 percent back on purchases via the Aircraft Owners and Pilots Association (AOPA), 3 percent when shopping with AOPA partners, 2 percent on fixed operator costs and 1 percent cash back on everything else.
The card was launched, thanks to a partnership between AOPA and Commerce Bank, in order to provide pilots with rewards that are on par with their passion. "Working with Commerce Bank, we have developed the best rewards credit card available to pilots," said AOPA President and CEO Mark Baker.
"With a competitive cashback program focused on aviation-related products and services, this new card will allow pilots to save more of their hard earned money and spend it on what they love—flying ," he added.
Getting 4% cash back and more
With this card, people can earn 4 percent cash back for AOPA purchases, which includes AOPA Membership, AOPA Flight Instructor Refresher Clinics (both in-person and online), AOPA Event Registration, Pilot Protection Services and when making purchases at the AOPA Pilot Gear store.
They get 3 percent cash back when shopping with certain AOPA partners, such as Aero-Space Reports, Jeppesen, Aircraft Spruce & Specialty Co., PilotWorkshops, Sporty's Pilot Shop and Sirius XM Aviation.
Pilots often have fixed based operator costs to deal with, and here they earn 2 percent cash back. They also earn double cash back on aviation and auto fuel costs, as well as when taking a taxi or using a ridesharing service.
The cash back they earn will show up on their statement as a credit.
More benefits
The AOPA World MasterCard comes with a variety of extra benefits, like travel services and concierge services. Golfers can take advantage of exclusive golf privileges, as well.
When it comes to keeping their data safe, cardholders also get access to MasterCard ID Theft Protection. Other benefits that come with this card include:
Zero liability
Extended warranty
MasterCard Global Emergency Services
Price protection
For more information, pilots can check out the website.