The content is accurate at the time of publication and is subject to change.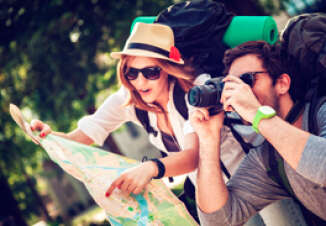 The new American Express Spending and Saving Tracker is out, and the verdict is in: travel is trending with Americans with 85% planning on traveling this year and most of them planning on hitting the road this summer, up 13% from last year.
Getting away for at least a week is on the summertime agenda of most people (68%), which is on par with last year, but the big news is that there is an upswing in the number of people planning on being away for two weeks or more (36% vs. 32% in 2014). Traveling on holiday weekends is still in style this year, with more than half (53%) of people planning on heading out over those weekends, with the Fourth of July and Labor Day weekends remaining popular.
"Americans live for summer travel, it's a reward for hard work and braving the cold winter months," said Claire Bennett, executive vice president, American Express Travel. "What we are seeing from our travel customers is a passion for enriching experiences. From up-close encounters with nature across America to pizza- and gelato-making classes in Italy, we are serving travelers who want to see and experience more during their time off."
Slashing travel costs and stashing away cash
While travel is on the agenda, spending more isn't, with travelers expecting to spend less this year than last ($1,005 vs. $1,246). But they are saving to make summer travel a reality, and using key strategies to save money. Using points and rewards to cut down on travel costs is part of the plan, with 26% planning on using rewards, up 53% from four years ago.
Driving still trumps flying for those invested in keeping travel costs in check, but it's down from last year (36% vs. 44% in 2014).
Domestic destinations in style this summer
Domestic destinations are more popular this summer, and a way to save on travel, with  three out of four people (77%) planning on traveling within the U.S, and just one in five planning on going abroad.
For those planning to cross the boarders or the sea, Europe takes the top spot as being the most popular destination (59%), followed by Asia (30%) and South America (29%). The favorable exchange rate is one of the reasons why Americans are taking a closer look at Europe. Credit cards that do not charge foreign exchange fees will be the card of choice for 96% of international travelers.
No matter where they will be heading, 61%  of people will be researching their destination of choice online, before they book a flight or hotel.
With half planning on visiting at least five different websites, up 12% from last year.  Another 25% will hit seven sites or more before making any plans, up 39%. Millennials take the lead when it comes to using more sites to do their research than baby boomers or Gen Xers.
The American Express Spending & Saving Tracker was conducted online between April 28 and May 1, 2015. They interviewed 1,502 adults, falling into two demographics - the general U.S. population and a subset of people with a minimum annual household income of $100,000.