The content is accurate at the time of publication and is subject to change.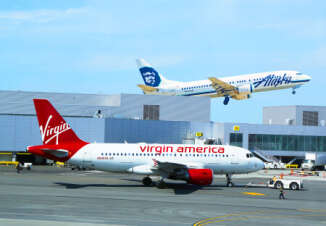 Alaska Air Group, the parent company of both Alaska Airlines, Inc. and Horizon Air Industries, Inc., has just been waved through for take off on their acquisition of Virgin America by the Antitrust Division of the United States Department of Justice (DOJ).
For Alaska Air this represents a way to grow their business but to also give more to their customers. "We couldn't be more excited about receiving DOJ clearance for our merger with Virgin America," said Alaska Air Group Chairman and CEO Brad Tilden. "With this combination now cleared for take-off, we're thrilled to bring these two companies together and start delivering our low fares and great service to an even larger group of customers."
The details
With the DOJ clearance Alaska Air does not need to divest themselves of any of their assets as a condition of sealing this deal with Virgin. Alaska has agreed to limit changes to their pre-existing codeshare agreement with American Airlines.
No other aspect of their relationship with American Airlines will be altered, and this includes the current loyalty agreements the two already have in place. This also applies to all of Alaska Air's other partnerships in the airline industry.
Lawsuit pending
Alaska Air is set to finish up the acquisition of Virgin in the near future, and the timing of this plan takes into account the lawsuit filed in the U.S. District Court in San Francisco by plaintiffs in the private sector. The airline feels that the claims will not hold up in court, and the stage is set for them to defend their buying of Virgin America.
"We remain confident in the merits of this transaction," Tilden said. "The expanded West Coast presence and larger customer base create an enhanced platform for growth, which is good for investors, employees and especially customers – who benefit from more choices, increased competition and low fares."
Alaska Airlines, along with regional partners, flies to 110 cities with 970 daily flights on average to destinations located in the United States, Canada, Costa Rica, and Mexico, with Cuba coming soon.