The content is accurate at the time of publication and is subject to change.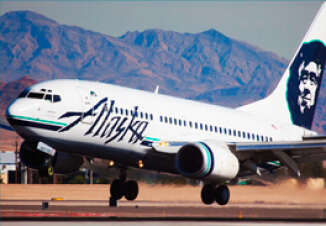 Alaska Airlines has its sights set on growing its presence in Texas and will be adding more service into Dallas Love Field to its roster. With these new routes flying between Dallas Love Field and four airports located on the West Coast – Seattle, San Diego, Portland, Oregon and San Jose.
The merger between Alaska Airlines and Virgin Airlines set the stage for this expansion and others. With the addition of the new flights from Love Field, they will now fly between eight destinations. The roster includes 18 peak seasonal departures every day, representing a 40% upswing in flights.
This Texas expansion is an exciting development for the carrier. "These new routes offer Dallas business flyers complete West Coast utility from one of the fastest growing corporate centers in the country, one that is home to 54 Fortune 500 companies," said John Kirby, Alaska Airlines' vice president of capacity planning.
"Guests flying between the West Coast and both of North Texas's major airports will enjoy Alaska and Virgin America's award winning service and convenient schedules," he noted.
Getting a West Coast vibe
Alaska Airlines has been focusing on growing their reach on the West Coast, with this growth adding 37 new markets into the mix. The Love Field expansion is designed to build upon the success they have already achieved in Texas, with the carrier having started flying into the Lone Star State a dozen years ago.
With the new flights heading into and out of Dallas, Alaska Airlines will now be offering consumers access to 59 peak season flights every day, going to and from five airports located in Texas – with the Lone Star State roster including Austin, Dallas-Fort Worth, Dallas Love Field, Houston and San Antonio.
The jets
On the new routes out of Dallas, they will be flying three-class jets. For the routes heading out to Portland, Seattle San Diego, and San Jose they will be flying the Embraer 175 jet, which is operated by SkyWest Airlines. Virgin Airlines will be flying an A320 family aircraft on one of the two daily flights scheduled to head to Seattle.
On these flights, travelers will be able to choose their seats a head of time, as well as take advantage of free chat and free movies, along with premium food and beverages and Wi-Fi.