The content is accurate at the time of publication and is subject to change.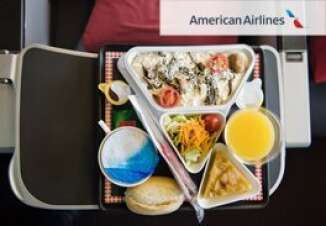 Flying coast to coast can get you hungry, something American Airlines knows all too well, so they are upping the ante for travelers sitting in the main cabin on these flights by offering free meals starting May 1. They will be available on flights traveling between New York and Los Angeles, as well as flights between New York and San Francisco.
What meal travelers are offered by the crew depends upon the time of day they are traveling, individuals heading out early in the morning will get a continental breakfast. While at other times of the day travelers will be offered a sandwich wrap, which comes along with kettle chips and dessert. Are you vegan? Don't worry there will be vegetarian options available as well, along with a fruit and cheese plate.
Upping the ante
For American Airlines this new upgrade is all about making their customers in-flight experience better and giving them more in terms of value. "Some of our best customers fly our trans-continental routes and we want to give them a top-notch on board experience," said Fernand Fernandez, vice president – Global Marketing. "Providing complimentary meals in the Main Cabin is yet another step we're taking to enhance our service in this competitive market."
These new free meal options will be available on American's A321T airplanes, which are typically used on routes between the coasts. Along with the usual bells and whistles that go with booking a flight, these aircraft's offer travelers an international first class experience, which includes fully lie-flat seats in first as well as business classes.
American Airlines and American Eagle fly out just about 6,700 flights every day going to just about 350 destinations located in 50 countries around the world. Their hubs are located in Charlotte, Chicago, Dallas/Fort Worth, Los Angeles, Miami, New York, Philadelphia, Phoenix, and Washington, D.C. They are also the founder of the oneworld alliance, offering flights that head out to over 1,000 destinations located in 150 countries – equaling around 14,250 daily flights per day.