The content is accurate at the time of publication and is subject to change.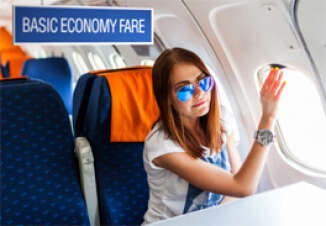 American Airlines has announced their new Basic Economy Fare, giving travelers a way to fly for less by taking some perks and freebies off the table, including paying for carry-ons and seat assignments. But some things stay the same including free entertainment options, snacks and beverages. Starting on February 10 the new no-frills fare will be rolled out in 10 markets, with flights featuring these fares taking off shortly afterward. American Airlines intention is to introduce the new fare out to other markets later in the year.
That said not all American Airlines Flights will offer the new fares, but the fares are seen as a way for the airline to compete with other airlines known for their low fares. "American Airlines now has something to offer every customer, from those who want simple, low-price travel to those who want an ultra-premium experience via First Class," said American Airlines President Robert Isom. "Importantly, this new fare product also gives American the ability to compete more effectively with the growing number of ultra low-cost carriers."
People will still earn AAdvantage miles and Elite Qualifying Dollars when opting into the new no frills fares, but just one half Elite Qualifying Mile are earned per mile flown, while earning one-half Elite Qualifying Segment per segment flown.
Paying for carry-ons and more
People will sit in the same kind of seats that their economy counterparts do, but some things are different, including seat assignments. People will not be able to pick their seats. Their assignments will be made automatically and only when they check in. But if people want to pick their seat they can do so 48 hours before they board their flight for a fee.
What about upgrades? They are no allowed, no matter what elite status level is held.
People can bring just one personal item on to the flight, and it must fit under the seat, which means bringing on a small backpack or purse. People who pay the no frills fares can not use the overhead bin for luggage. All larger carry-ons, including roller-board bags, must get checked in at the ticket counter, and come along with a checked-baggage charge. If people don't abide by this rule they will be charged a checked bag fee and a $25 gate service charge for every bag.
While there are no upgrades, Elite customers and eligible AAdvantage credit cardholders are allowed to bring one personal item and one roller-board on the flight, plus they keep their free checked bag allowance.
Last but not least, when it comes to boarding, Basic Economy customers will be boarded last, but they will sit in the main cabin. But here too, Elite customers and eligible AAdvantage credit cardholders get an extra perk--they will get priority or preferred boarding even when going with this no frills fare.
Use or lose tickets
The new basic economy fare tickets are to be used or lost. They are non-refundable and non-changeable. And people can not make changes the day they fly or get same-day standby.