The content is accurate at the time of publication and is subject to change.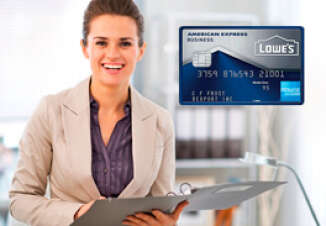 American Express OPEN and Lowe's have inked a deal extending their already existing relationship. With this deal, people with the Lowe's Business Rewards credit card will keep earning rewards, including triple points when eating out, shopping at supply stores and paying for their wireless service – and earn double points and 5% off when shopping at Lowe's.
This card was created with small businesses, like contracting, construction, and property management companies, in mind, so they could get the most out of their business related purchases. "We're thrilled to extend our partnership with Lowe's and continue to offer rich value to small businesses," said Audrey Hendley, senior vice president, American Express Global Commercial Payments.
"The Lowe's Business Rewards Card gives small business owners the tools they need to better manage spending and earn rewards they can invest towards future growth," she said.
Earning triple and double points
The Lowe's Business Rewards credit card lets cardholders earn triple points when using their card at restaurant's and supply stores located in the United States. They also earn triple points on wireless telephone service, when purchasing service from U.S. based providers.
When shopping at Lowe's cardholders get 5% off in-store purchases, as well as when shopping online at Lowes.com and LowesForPros.com. To get the 5% off people must be shopping in a U.S. based store and use their Lowe's Business Rewards Card from American Express.
They also earn double points on purchases made at Lowe's, and all other purchases earn them one point per dollar.
No limit on points
Cardholders can accumulate points, and cash them in whenever they are ready because points do not expire, and there is no limit to how many points they can earn.
When it's time to redeem points, cardholders can cash them in for a wide range of gift cards, including:
Lowe's Gift Cards
American Express Gift Cards
Outdoor Rewards Cards
Because the Lowe's Business Rewards credit card is part of the American Express network cardholders also get access to additional business based benefits, including OPEN Savings and Lowe's ProServices.
People can apply for the card at all Lowe's stores, but they can also visit the website to get more information or give them a call at 877-673-6947.