The content is accurate at the time of publication and is subject to change.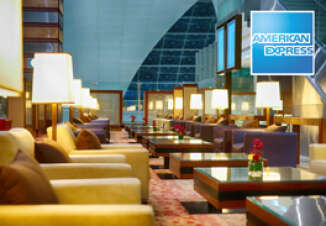 Premium American Express cardholders passing through Hong Kong International Airport (HKG) can now stop into the Centurion Lounge there, the latest addition to the lounge network. American Express is also adding a lounge at Philadelphia International Airport (PHL) later in 2017.
Additionally, the lounge in Seattle-Tacoma International Airport (SEA) will be upgraded and expanded in the near future.
"We're thrilled to bring our best-in-class Centurion Lounge to Hong Kong, one of the most popular travel destinations in Asia among our premium Card Members," said Janey Whiteside, senior vice president and general manager of Global Charge Products, Benefits & Services, American Express.
"We're also looking forward to continuing to expand our Centurion Lounges in the U.S. with the addition of a new location in Philadelphia. Philadelphia International is one of the most trafficked airports for our Card Members, as we've seen a ten percent increase in travel into Philadelphia in the past year alone," said Whiteside.
The details on Centurion Lounge Hong Kong
When in Hong Kong travelers can find the new Centurion Lounge in Terminal 1 of the Hong Kong International Airport (HKG).
This location will span over 8,000 square feet, where travelers can get some R&R while passing through the busy global travel hub, offering a wide range of premium amenities, as well as food and beverages.
Centurion Lounges in Philly and Seattle
The Centurion Lounge located in Terminal A West at Philadelphia International Airport, measures 6,300 square feet, with the space including windows spanning from the floor to the ceiling, giving people access to expansive internal and external views. The lounge also comes along with state-of-the-art bathrooms, a private shower suite, free Wi-Fi and noise buffered work spaces.
When travelers arrive, they can check out the free amenities, which include foods that reflects some of Philadelphia's favorites, along with a premium bar.
American Express is upgrading their already existing lounge at Seattle-Tacoma International Airport expanding it by 1,400 square feet, with it offering more seating, and restrooms along with a premium bar. The lounge upgrade will be completed during the first six months of 2017, and it can be found in Concourse B across from Gate B3.