The content is accurate at the time of publication and is subject to change.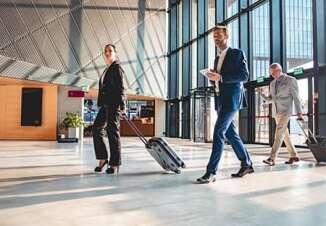 American Airlines has updated its AAdvantage® program to make it simple for members to track progress toward AAdvantage® status. The carrier got rid of Elite Qualifying Miles, Elite Qualifying Dollars and Elite Qualifying Segments, and introduced only one currency - Loyalty Points.
Now AAdvantage members have more ways to earn Loyalty Points. Members will still earn points toward status from flying. Plus, qualifying activities have expanded to include spending on co-branded AAdvantage credit cards, at AAdvantage partners, and on other non-flying activities.
These activities below will earn you one Loyalty Point for each eligible AAdvantage mile:
- American Airlines flights, including American Eagle®, any oneworld® and flights with other airline partners
- AAdvantage credit card eligible purchases
- eShopping™, AAdvantage Dining™, SimplyMiles™, and other activities with partners.
Eligible AAdvantage miles are the base AAdvantage miles you accumulate. For example, with most AAdvantage co-branded credit cards you will earn just one mile (and one Loyalty Point) from each dollar you spend. You won't earn Loyalty Points for sign-up bonuses, limited-time spending offers or multipliers on certain categories. Plus, you won't earn Loyalty Points for bonus miles earned from special promotions, purchased miles, and gifted or transferred miles.
Here's how many Loyalty Points AAdvantage members will need to earn AAdvantage status beginning in 2022:
- AAdvantage Gold®: 30,000 Loyalty Points
- AAdvantage Platinum®: 75,000 Loyalty Points
- AAdvantage Platinum Pro®: 125,000 Loyalty Points
- AAdvantage Executive Platinum®: 200,000 Loyalty Points
Status members will be able to earn Loyalty Points faster as they earn additional bonus miles from flights when traveling American and its partners.
Your current AAdvantage status will be valid through March 31. Plus, you can start earning Loyalty Points toward earning both 2022 and 2023 status right now - that's extra 2 months to earn status for both years. Going forward the AAdvantage status membership year will be valid through March 31 of each year.
You can read more about the changes in the AAdvantage program here.