The content is accurate at the time of publication and is subject to change.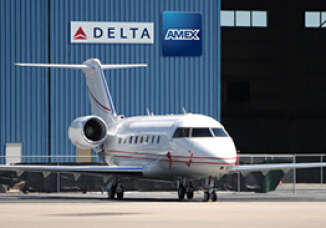 American Express and Delta Private Jets are rolling out a suite of new travel benefits for business and leisure cardholders looking to travel via private jet – aptly called the Premium Private Jet Program.
Partnering on this initiative is seen as a way to up the ante on premium travel. "Our Card Members love to travel, and they depend on us to not only make their journey more comfortable, but also make travel more seamless," said Janey Whiteside, SVP Charge and Benefits for American Express.
"Partnering with Delta Private Jets opens up one of the most premium travel experiences for our most jet-setting Card Members, giving them access to a custom, private travel experience at a value and with benefits available only with their Platinum or higher level Card," she added.
The new program also includes a decreased fee for Platinum cardholders when they buy the Delta Private Jets Card Membership, as well as those who travel using On-Demand Charter Services. For more information on the Premium Private Jet Program, cardholders can ring Platinum Travel Service at 800-525-3355 or they can check out the website they have set up for the program.
Delta Private Jets Card
This is not a new relationship for Delta or Amex. They have worked together to create other products, including The Delta Private Jets Card. It gives people a lot of options when looking to book a private jet, including getting to pick your jet size on all flights, no interchange fees, and with 10 hours' notice guaranteed jet availability.
They also fly around the world both domestically and globally, giving cardholders access to both private jet travel and Delta commercial aircraft. What about cost? They lock in rates for two years, and hourly rates include everything from taxes to fuel costs. To buy the Delta Private Jets Card people can call 866-632-1107 or visit the website.
Amex and Delta also have co-branded credit cards together, which allow people the ability to earn status quicker and earn points, which can also be transferred into the cardholder's Delta SkyMiles account by using the points transfer program.
Delta SkyMiles account by using the points transfer program.