The content is accurate at the time of publication and is subject to change.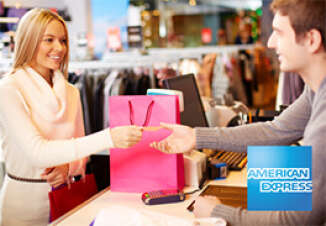 With the holiday season approaching American Express is doubling down on shopping small – offering cardholders double rewards when shopping at qualifying small businesses both in retail stores and online. People with over 50 eligible U.S. Consumer and OPEN Small Business American Express cards can now take part in this offer. This initiative starts right now and continues until December 31, 2016.
Shop Small for double the rewards for cardholders and businesses, and is already built into the rewards program of the cards included. When people shop at a qualifying merchant whether buying dinner out, snapping up holiday presents, or buying a new outfit, they earn double their rewards. This is the case whether they earn Membership Rewards points, miles or cash back. What they earn depends upon the card they are using.
To get more information about the program and what cards are eligible for it, people can visit the website set up by American Express for their Shop Small initiative.
Shopping Small and Amex go way back
American Express began their grassroots initiative to help bring more customers into small businesses and help them thrive seven years ago. The campaign includes Small Business Saturday, the day after Black Friday, which has become a well known shopping day.
During the past seven years they have grown the program to bring more cardholders and small businesses into the mix. In keeping with this theme, their doubling down on shopping small is seen as a way to give cardholders more rewards and bring even more business into local retailers.
"Last year, Small Business Saturday inspired 95 million people to Shop Small," said Howard Grosfield, EVP, U.S. Consumer Marketing Services for American Express. "This year, we're going all out to support the expanding network of small businesses who accept the American Express by giving our Card Members yet another reason to Shop Small throughout the holiday season—including on Small Business Saturday. This campaign also helps deliver the one thing small businesses need most…more business."
To help small businesses get ready for Shop Small 2x rewards, Amex has rolled out a whole host of marketing materials and resources, like free online ads, social media posts, signs, and email templates.