The content is accurate at the time of publication and is subject to change.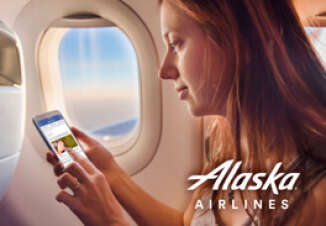 Have you ever been flying and wished you could text someone – for free? Well if you have then you may want to check out a new service that the California-based Alaska Airlines is rolling out – Free Chat.
With this new complimentary service travelers can connect with family, friends and everyone else when booking seats on Alaska's Gogo equipped flights using WhatsApp, Facebook Messenger and iMessage. This announcement comes on the heels of Alaska Airlines acquiring Virgin America.
This new in-flight service is seen as a way to give their customers more. "We're celebrating the new year – and our new, bigger airline – with the roll out of new customer-friendly enhancements on Alaska-branded flights, starting with Free Chat," said Andrew Harrison, Alaska Airlines' executive vice president and chief commercial officer. "We know that staying in touch while on the go is essential to our guests, many of whom don't need full Internet access. Free Chat is a great way to keep that connection alive without breaking the bank. And yes, it's fully emoji-compatible."
New Premium Class
Along with Free Chat Alaska Airlines will be launching other in-flight products this year, including a new Premium Class service rolled out last week. This new premium class includes more legroom (4 inches), and early boarding, along with free snacks and alcoholic beverages.
Just about 40% of their fleet has been outfitted with the new section, with 90% expected to be upgraded by year end. Seats will cost travelers anywhere from $15 to $79 extra.
People who are members of Alaska Mileage Plan MVP, Gold and Gold 75K can get free upgrades to this section when they book their tickets, or anytime up to 24 hours before traveling. Of course the upgrades depend upon what fare they buy and their status.
Free movies and food and beverage upgrades
As a shout out to their merger with Virgin American, from now until March 31, Alaska is providing travelers with free movies with new titles on hand including X-Men Apocalypse, Nice Guys, Ice Age Collision Course, and Mike and Dave Need Wedding Dates.
Alaska Airlines is also upgrading food and beverage choices. Travelers will soon have more options when the snack cart comes by their seat. It will now include new wines from Chateau Ste. Michelle, new craft beer, bourbon and sparkling wine from La Marca.