The content is accurate at the time of publication and is subject to change.
This content is not provided by Citi. Any opinions, analyses, reviews or recommendations expressed here are those of the author's alone, and have not been reviewed, approved or otherwise endorsed by the Citi.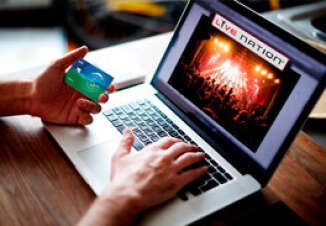 Live Nation kicked off their summer concert series yesterday with the first-ever National Concert Day, setting the stage for a summer full of music for fans across the U.S. Citi, a Credit-Land.com advertising partner, cardholders have lots of reasons to be excited, because besides being a sponsor of the event, Citi is also the official credit card for Live Nation, so they can now score tickets to shows by Madonna, Ariana Grande, Lady Antebellum as well as many others through the Private Pass program.
The summertime concert series is also sponsored by Hilton, Malibu Rum and Pepsi, and each one is offering concertgoers some extras. Hilton@Play and Pepsi's "Out of the Blue" platforms offer people once-in-a-lifetime travel and music experiences, which coincide with the concert series and festivals. Malibu will be setting up their custom-built Malibu Rum Beach House at some concerts and festivals, serving up specialty cocktails and live music.
Sizzling Summer Fun
Live Nation's concert series will feature about 60 stars from all spectrums of music and entertainment including  Indie & Alternative Music, Classic Rock and Country, Rock, Metal, Hip-Hop, Electronic Music and Pop.
The artists appearing over the summer include The Smashing Pumpkins, Marilyn Manson, Madonna, Foo Fighters, Zac Brown Band, U2, Luke Bryan, Jason Aldean, Slipknot, Chicago and Earth, Wind & Fire, Bette Midler Imagine Dragons, Ariana Grande, One Direction, Meghan Trainor, Kelly Clarkson, Idina Menzel, Josh Groban, Kevin Hart, Nicki Minaj, and J. Cole, as well as many other groups and artists.
People can also check out almost 30 summer music festivals over the summer including the Budweiser Made In America Festival, Sasquatch! Festival, Big Guava, EDC Vegas, Squamish Valley Music Festival and HARD Summer. They have also included the first-ever FarmBorough festival in the mix.
Part of Live Nations kick-off celebration on May 5th included a concert in New York City featuring some of today's hottest stars including Kid Rock, Florida Georgia Line, Billy Corgan of the Smashing Pumpkins, Wiz Khalifa, Brandon Boyd & Mike Einziger of Incubus, Rae Sremmurd, Tinashe, Kip Moore, Mick Jones of Foreigner, Metric, Jason Wade & Bryce Soderberg of Lifehouse and hosted by Hoda Kotb of The Today Show.
 For more information on performances people can check out the Live Nation website. Live nation is a live events company, made up of several entities including Ticketmaster, Live Nation Concerts, Live Nation Media & Sponsorship and Artist Nation Management.