The content is accurate at the time of publication and is subject to change.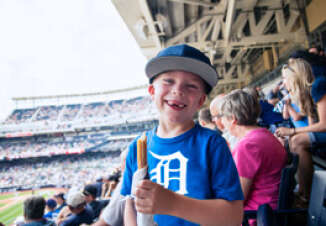 Comerica Bank has teamed with the Detroit Tigers to rollout "Comerica Park Perks," a program offering cardholders VIP gate entrance at Comerica Park and access to VIP pregame parties when the Tigers are playing home games.
Starting April 9 all people have to do when they get to the ballpark is flash their Comerica credit or debit card along with their tickets, and they are in. They also get access to ticket giveaways and discounts during 2016 Detroit Tigers home games.
The initiative is a byproduct of Comerica's long time relationship with the Detroit tigers along with their desire to up the ante for their cardholders and customers. "We want Comerica Bank customers to benefit from our partnership, as the official bank of the Detroit Tigers, in a way that enables them to enjoy the park like never before," said Mike Ritchie, president of Comerica Bank-Michigan. "We put our customers first and look forward to sharing the excitement of the 2016 Tigers season with them."
Lets go Tigers!
Comerica cardholders and their families will be able to enter the park two hours before the game starts, so they can chill out and relax, while also having a chance to check out the players during batting practice.
The Comerica Bank VIP entrance is setting up shop at Gate C, which is on the corner of Adams and Brush Streets.
Pregame parties can be lots of fun, and the Comerica Bank parties will be held at Cheli's Chili Bar on Saturdays when there is a home game starting on May 21 and going until September 24. When cardholders show their cards they and up to four friends and family can get into the exclusive event.
While there, they can grab some free drinks and food, listen to music, have some fun and get their picture taken with Tigers alumni. But since space is limited people will have to pre-register for the event, and only the first 130 people will get on the list. People can register at the website.
Extras, Extras, Extras
People also get access to ticket discounts for some games taking place in April and May, and happening between Monday and Thursday. The tickets can be ordered on the website.
People can also enter the Comerica VIP Tickets Sweepstakes from now until August 14. If they win they get a pair of tickets to a Tigers home game. They can enter once a day on the Comerica Cares Facebook page.
Individuals with kids can also save $4 on the Detroit Tigers Kids Club membership. This offer is only for new members.