The content is accurate at the time of publication and is subject to change.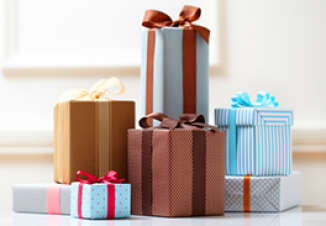 If you have been buying holiday gifts and squirreling them away you're in good company, according to the new American Express Spending & Saving Tracker, finding by the end of September 33% of people had already gotten a head start on shopping, up from last years 25%.
Along with early gift shopping trends, consumers average spend is up this year too, with Americans expecting to shell out $908 on average, representing an 8% upswing from last year when the average spend was $839. When it comes to affluent consumers, here too the average spend is up – with that cache of consumers slated to spend $1,513.
When it comes to holiday gift giving, certain gifts take the top spots with consumers. If you're stocking up on gift cards then here too you are on point with the trend, because they are the most popular gift.
Gift cards are followed by clothing and accessories, as well as an old favorite - toys and games.
Mobile shopping upswing
How will Americans be shopping this year? Three out of four will be using their mobile devices to do everything from browsing for gifts and comparing prices, to looking for a deal.
But that is not all this year. There is also a very real shift in how many people are planning to use their mobile devices to either buy or redeem gift cards – up 10% from last year.
Shopping the web still trending
Even though people are all about using their smartphones and mobile devices, cyber shopping is the top contender, with 94% hitting the internet to do their research, compare prices, search for hard to find presents, and actually buy gifts.
This is not a new trend. For the last four years 60% of consumers said it was their preferred method when buying gifts for the holidays. For 65% their top pick for online shopping is hitting shopping networks like Amazon and eBay (65%), with superstores like Target and Walmart following behind (48%). Why? Because both offer people a way to do all their shopping in one shot.
While people are shopping earlier, Black Friday is still a big shopping day, with more than half of consumers (53%) planning on shopping then, up 8% from last year.
The American Express Spending & Saving Tracker research was carried out from September 14 to 19. They used a random sampling consisting of 1,540 adults.