The content is accurate at the time of publication and is subject to change.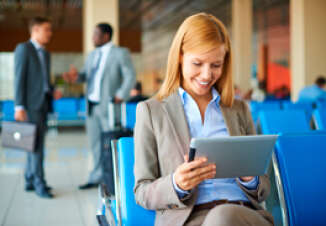 The verdict is in and convenience is king with business travelers, especially when it comes to getting the flights they want when they want them, according to new study by the Global Business Travel Association in partnership with American Express.
In the first GBTA Business Traveler Sentiment Index report 36% of business travelers who are booking flights both within the U.S and abroad, said that their top concern is getting a flight that fits into their schedule, compared with 24% who cite ticket price and the 20% who are looking to get the most miles for their travel.
"Time is money for business travelers, so it comes as no surprise that U.S. travelers place such a high premium on convenience," said Joseph Bates, vice president, GBTA Foundation. "While a more convenient flight or a hotel closer to the meeting may cost slightly more, it is worth it to business travelers and their companies if it allows them to be more productive and maximize their time."
Overall Satisfaction is up, but...
When asked about their satisfaction levels business travelers gave their time on the road a thumbs up, but airline travel took a bit of a hit with only 57% saying they were satisfied or very satisfied with airline travel, and 55% left feeling good or content with their TSA experience.
When asked if travel was more difficult today or three years ago, the present came out on top. Travelers  cited three areas that made it more difficult:
Airline delays (45%)

Airport security (33%)

Airline fees (29%)
Millennials forging the way
Social media is trending with Millennials looking to book business travel, using these outlets to get the inside scoop on travel services whether that's booking a flight or a hotel room.  And that they are far more interested than their older counterparts in using ride share services (46%) and room-finding services (35%) when traveling.
The study also found that they are more likely to use alternative methods of payment with 37% indicating that over the next year they would more than likely be using a mobile cashless wallet. Just 20% of all business travelers said the same.
This focus on tech is seen as an opportunity for business to save money and time if handled correctly. "In the area of expense management, for example, companies would be wise to invest resources into mobile apps and expense management solutions to help business travelers save time and be more productive," said Susan Chapman-Hughes, senior vice president at American Express Global Corporate Payments.
The GBTA Business Traveler Sentiment Index, in partnership with American Express, was conducted December 4-19, 2014. They interviewed 826 people across the U.S.
The GBTA Foundation is the education and research foundation of the Global Business Travel Association (GBTA), which has over 7,000 members across six continents. It is headquartered in Washington D.C.