The content is accurate at the time of publication and is subject to change.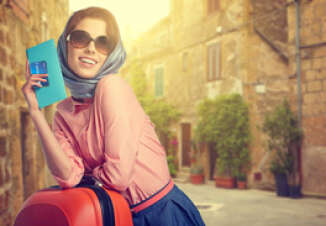 Travelers are overspending while on vacation, according to a new study by Experian, with many using their credit cards to bridge the gap in their budget. While this appears to be the case across all the generations Millennials are taking the lead when it comes to risky spending, with a third not saving up for summer travel at all.
The Experian Study looked at travel spending for 2015. When talking to millennials they found that a third haven't been putting away money to travel; 72% indicate that they spend more than they thought while away, and 52% are weighed down by credit card debt once they get home. Experian sees this trend as being a roadblock to long term financial health whether you're a millennial or a baby boomer.
"People want to come home from vacation with happy memories, not with unanticipated and unmanageable credit card bills," said Guy Abramo, president, Experian Consumer Services. "Racking up excessive credit card debt without a plan to pay it off can put people, especially millennials, in a bind that could affect their financial health and credit status for years to come."
Credit cards trump debit cards for travelers
Across the boards regardless of age when it comes paying for everything from airfare to dinner, credit cards are the payment option of choice:
• Booking stays – 68% of people use credit cards rather than paying with cash (11%) or using their debit card (19%)
• Airfare: 67% reach for their credit card, while 19% use their debt card and 11% pay with cash
• Entertainment: just about half (47%) foot the bill with their credit card, while 21% use their debit card and 30% use cash.
• Dining: 40% use credit, while 23% use their debit card and 36% pay with cash.
Millennials: eyes are bigger than their stomachs
When it comes to travel, some people's budgets and vacation can't always be reconciled, and this is especially true for millennials with 52% reportedly racking up credit card debit while traveling when compared with 49% across all generations.
Not having enough saved meant that 46% of travelers had to pay for their vacation with their credit card and the number went up to 50% for millennials. On the other hand 37% of people said that they had to call off their vacation plans because they hadn't saved enough money to go, and here too the number went up for Millennials (50%).
Tax refunds are often a prime source of money for vacation travel, and in the survey 33% of all respondents and 50% of millennials were planning on using their refund for summertime travel.
Last but not least, 75% said that staycations were a good way to get time off and keep spending down by staing local when times were lean.
The study was commissioned by Experian Consumer Services and conducted online by Edelman Berland, a research firm, from May 5 to May 11, 2015. They surveyed 1,000 adults in the U.S aged 18 and up.