The content is accurate at the time of publication and is subject to change.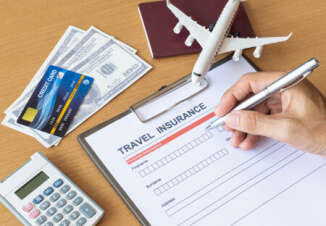 Travel disruptions happen all the time and cause a lot of stress, not to mention potential extra expenses you might have while waiting for a later flight.
Additional expenses such as meals, hotels, toiletries, and transportation can be covered if you have the right credit card. Some credit cards can provide additional protection - trip delay insurance - when you use them to pay for your trip.
Trip delay insurance is a protection against additional reasonably necessary expenses you may incur when your travel booked on a common carrier is delayed for a long time and is not covered by your common carrier. Common carriers are airlines, passenger railroads, long-distance bus service, ferry operators. Necessary expenses vary by card issuers, but they usually include meals, hotels accommodations and transportations. Those expenses can be limited up to the coverage limit.
Trip delay insurance is secondary. This means that it only kicks in after you receive compensation from the primary entity (e.g. airline). Thus, if an airline provides food vouchers during a lengthy delay, you can't get reimbursed for that.
Here are some credit cards that provide trip delay protection:
Chase Sapphire Reserve®
The Platinum Card® from American Express
Marriott Bonvoy Bold® Credit Card
United℠ Explorer Card
Many travel credit cards come with built-in trip delay insurance. They may also have other travel benefits to help you make your trips smoother. However, that comes at a cost. Travel cards almost always come with annual fees and often with rather high ones. Nonetheless, the annual fee may be worth all the benefits a travel card offers. Just make sure you know all benefits' ins and outs, especially when it comes to coverages and protections.