The content is accurate at the time of publication and is subject to change.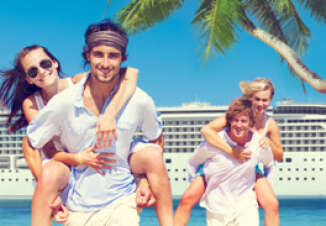 If you have an inkling that cruises are addictive you might just be right according to a recent survey, finding that over 90% of people who set sail on a cruise, are planning on hitting the seas again. That's not all. They would also recommend taking to the seas for a cruise to their friends and family.
With Gen Y, Millennials and Gen Xers being particularly gung-ho about cruises after their first one and looking to repeat the experience. For instance, Jennie Spaulding, 41, from Peoria, Ariz., went on her first cruise with her husband, Jeremy – heading out to Mexico for four days. "It was the best experience and the best vacation ever," Spaulding said. "It was a way to reconnect for me and my husband, which is exactly what we did." She's already planning their next cruise and in sync with the trends showing that first time cruisers are highly likely to book more cruises.
Cruise upswing
People are cruising for the first time more now than ever before, a trend that has been in effect for a while. The United Nations World Travel Organization (UNWTO) reported last year that between 2004 and 2014 the cruise market was the fast growing part of the vacation industry, clearly outperforming land-based vacations by 23%.
With that trend in mind, in 2017 about 25 million people around the globe, are expected to choose a cruise as their go-to vacation.
Why cruises?
As you may have guessed there are may reasons, but being affordable when compared to land-based vacations is a big draw. "The big appeal of a cruise vacation is that it offers superb value for your money, whether you travel to Alaska, the Caribbean or even more exotic itineraries," said Carolyn Spencer Brown, editor in chief of the popular website Cruise Critic. "That's something more and more people are discovering."
Yet flexibility and freedom are also draws for travelers. And then there are the activities on board which provide vacationers with everything from topflight activities and entertainment to spas and dining – all included in the price.