The content is accurate at the time of publication and is subject to change.
This content is not provided by Citi. Any opinions, analyses, reviews or recommendations expressed here are those of the author's alone, and have not been reviewed, approved or otherwise endorsed by the Citi.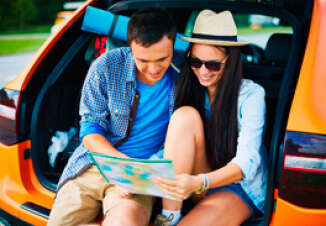 Citi's annual summer travel survey showed that 72% of people plan to drive to their vacation destinations this summer, while only 18% plan to fly. Travel nearly always ends up costing more than you think it will, and the Citi survey also confirmed that: almost 60% of respondents said they regularly exceed their summer travel budget.
Weekend trips trump long vacations
Rather than taking one long summer vacation, more people are opting to go on multiple weekend jaunts this summer. Almost half (46%) of those surveyed said that compared with five years ago, they are more inclined to take several weekend trips instead of one longer vacation nowadays.
The most popular weekends to hit the road may not be the ones you'd expect, however. Only 25% of folks said they'd go out of town for Independence Day. Eleven percent said they'd hit the road for Memorial Day, and 10% said Labor Day was the best summer holiday for a vacation. Fifty-four percent of respondents said they'd rather go somewhere on a non-holiday weekend, citing heavy traffic and high costs.
Hotels beat out B-and-Bs
Online services like Airbnb may be gaining popularity, but old-fashioned hotels are still the first choice for most people, according to Citi. Fifty-seven percent of respondents said they'd stay in a hotel during their vacation, and another 27% planned to crash with friends or family. Only 6% planned to stay with an Airbnb host, and another 6% said they'd stay at a bed and breakfast.
Folks save up days off for summer
People with full-time jobs still save up their vacation days for summer, whether they plan to use them all at once or spread them out over a series of long weekends. Those workers said that on average, they save 37% of their yearly vacation days for summer. Thirty percent of full-time employees reported saving more than half their vacation days for the hot season.
The Citi Summer Travel Survey was conducted online between May 5 and 12, 2015, and included responses from 1,000 people in the United States, ages 35-54.