The content is accurate at the time of publication and is subject to change.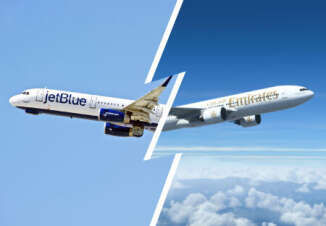 Emirates and JetBlue are terminating their partnership as of late October 2022. The airlines have partnered for over ten years but decided to end their codeshare partnership and move further.
JetBlue and Emirates first launched their partnership in 2012. That move allowed JetBlue customers to earn TrueBlue miles through Emirates flights. Likewise, Emirates travelers could redeem Skywards miles on JetBlue flights.
JetBlue confirmed the news, which appears on the JetBlue's website: "Effective October 30, 2022, TrueBlue members will no longer be able to earn points for Emirates-operated flights. Bookings made prior to October 29 for travel on or prior to October 29 will continue to earn points. Bookings made for travel on or after October 30 will not accrue points."
The announcement on the Emirates website shows the same information and explains travelers through what dates they can continue to earn miles on JetBlue flights:
If you purchase tickets for travel on or before October 29, 2022, you can still earn Skywards Miles on your flights.
Tickets purchased and flights flown on or after October 30, 2022 will no longer be eligible to earn Skywards Miles.
If you've flown on JetBlue Airways on or before October 29, 2022 but didn't quote your Skywards Membership number while booking, you can still claim your Miles within 180 days after your travel date.
It is believed that this move is made in preparation to the news concerning Emirates and United Airlines. The companies are reported to launch a codeshare partnership. The official announcement is expected on September 14, which was teased on the official Twitter accounts of United and Emirates
As for JetBlue, the airline continues to partner with Qatar Airways that offers easy connections with JetBlue in New York (JFK) and Boston. JetBlue customers can earn TrueBlue points with Qatar Airways. Qatar flies to over 140 destinations in more than 80 countries.