The content is accurate at the time of publication and is subject to change.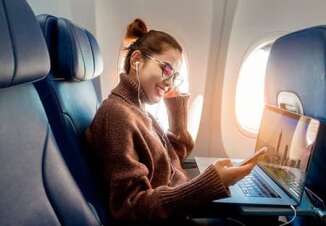 American Airlines already offers in-flight entertainment like free streaming of movies, music, TV shows, and more through Wi-Fi using the American Airlines app on your phone or tablet or live TV on their aircraft. Now American Airlines flyers will have one more entertainment option.
While American Airlines is removing in-flight entertainment screens from its domestic aircraft, it is offering in-flight entertainment in other ways. Thus, American Airlines has added free infight streaming of Apple TV+ shows to its in-flight entertainment menu.
The new option is available to every flyer with a device that has access to Wi-Fi but only on flights that give internet access. Flyers don't have to have a subscription to stream Apple TV+, and using in-flight Wi-Fi to stream Apple TV+ is absolutely free. Flyers will only need the American Airlines app on their phone or tablet. Those with laptops will need to visit aainflight.com (if not redirected after connection).
The addition of Apple TV+ is not the first time American Airlines works with Apple. The two companies started their partnership in 2019 when American Airlines announced the launch of free in-flight Apple Music streaming. To be able to enjoy this benefit, flyers should have an Apple Music subscription. The Wi-Fi access to Apple Music streaming is free on American Airlines flights.