The content is accurate at the time of publication and is subject to change.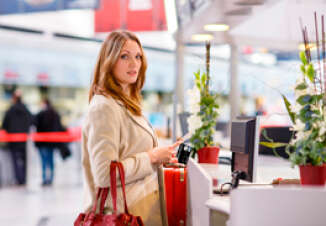 With the Alaska Airlines Visa Signature credit card you can now get your first checked bag for free as part of their program. New cardholders are eligible for this benefit two to three weeks after approval.
In January the airline rolled out a month-long free checked bag promo for their Mileage Plan members, and then in February they opened it up to people with a Visa Signature consumer card in their wallet. Making this promotion standard operating procedure at Alaska Airlines is seen as being a way to give back to customers.
"This is a benefit our customers have been asking for," said Sangita Woerner, Alaska's vice president of marketing. "Today we're thrilled to announce that our Visa Signature consumer cardholders and their friends and family traveling in the same reservation with them will enjoy one free checked bag with every flight – as a core benefit of our card program."
Cardholders also earn three points per mile for every travel dollar they spend with Alaska Airlines and one point per dollar on all other purchases. People also get 25,000 bonus miles when they sign up, which is enough for one round-trip domestic coach ticket. They also receive an annual companion ticket.
The details, bonuses and redeeming points
To be eligible for the bonus people have to sign up for the Signature Credit Card through the alaskaair.com portal. The bonus kicks in once they are approved for the card.
Cardholders also receive a roundtrip coach companion ticket once a year that can be used to bring a guest along on a trip for a reduced fare starting at $121 – the total cost of the ticket depends on where you're going and when. To qualify, the person using the companion ticket should be traveling with someone who has paid a full fare.
When it's time to use their points, cardholders can trade them in for tickets or vacation packages. When they travel on these tickets they will keep earning points as well. Points can also be used to book trips with partner airlines.