The content is accurate at the time of publication and is subject to change.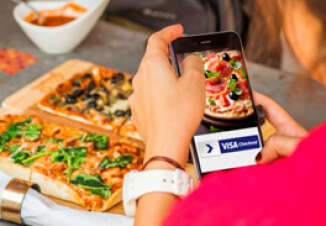 Eating pizza while watching a football game is a time-honored American tradition, so it's not surprising that VISA, has teamed up with Papa John's to give fans a little more this season. If fans use Visa Checkout they can take advantage of a new deal–they can get a free large pizza when ordering from Papa John's. To get the free pizza they must order via PapaJohns.com and pay with Visa Checkout. This offer includes one free topping on the free pizza.
To gear up for this promotion, Papa John's has loaded Visa Checkout on their website. The promotion is available for a limited time. For more information people can visit the website they have set up for this promotion.
A History with the NFL
VISA and Papa Johns both have a long history with the NFL - VISA is has been an NFL sponsor for more than two decades, and Papa John's is the NFL's official pizza sponsor. This collaboration is seen as an extension of their relationship, and a chance to give fans more this season.
"Visa Checkout is the perfect topping to any Papa John's pizza order," said Sam Shrauger, senior vice president of digital solutions at Visa. "Papa John's already offers customers an innovative way to order their favorite pizza with their pizza builder, and we're building on that innovation and giving pizza lovers another way to pay faster than ever."
And they are fans of each other on and off the field. "Papa John's is delivering a better game day ordering experience to customers nationwide with Visa Checkout," said Steve Ritchie, president and chief operating officer at Papa John's. "Just like our pizza, this easy checkout process is made with quality ingredients – speed, simplicity and security."
Visa Checkout is offered via the internet by major retailers around the world including Under Armour, Best Buy, Fandango, Gap, Virgin America, Williams Sonoma, Zulily, Neiman Marcus, Staples, and Rakuten. On top of that 1,400 financial institution have partnered with Visa to provide access to Visa Checkout in twenty-one countries.