The content is accurate at the time of publication and is subject to change.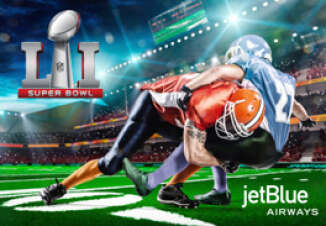 JetBlue is calling all Patriot fans looking for flights heading to Houston for the Super Bowl. The carrier is adding flights on their Boston and Providence routes to get them there in time for the kickoff on game day. And to sweeten the pot JetBlue has teamed up with the New England Patriots having rolled out a special sweepstakes – one where football fans have a chance to win not only round-trip tickets to Houston, but also a hotel stay and two tickets to the big game.
The additional JetBlue flights will be heading out to Houston on Friday, February 3, with return flights to New England on Monday, February 6. As an additional perk, Patriot fans wearing official New England Patriot jerseys will get early boarding when they fly out of Boston, Burlington, Vt., Hartford, Conn., Portland, Maine, Providence, R.I., and Worcester, Mass.
JetBlue adding these flights is not a surprise given the fact that they are an official sponsor of the New England Patriots. "As our team heads to Houston for the big game we're thrilled that JetBlue, the official airline of the New England Patriots, is adding flights for more of our fans who want to make the journey with us," said Murray Kohl, Vice President of Sales for Kraft Sports Group. "With extra service from Boston and Providence the trip from New England to Texas is easier than ever."
As always all travelers will get access to JetBlue's free Fly-Fi, Live TV and free snacks and beverages. And as a special incentive people flying on game day will get their first round of alcoholic beverages for a buck.
Getting There
Patriots fans can start booking flights now, with tickets on sale between both Boston Logan International Airport (BOS) and William P. Hobby Airport (HOU), and Providence, R.I.'s T. F. Green Airport (PVD) and William P. Hobby Airport (HOU).
Here are the new flights added to the roster February 3-6, 2017:
Travel Between Boston (BOS) and Houston (HOU)
BOS – HOU Flight #1931 HOU – BOS Flight #1032
5:00 pm – 8:39 pm 1:00 pm – 5:31 pm.
Travel Between Providence (PVD) and Houston (HOU)
PVD – HOU Flight #1971 HOU – PVD Flight #1912
7:30 am – 11:00 am 2:06 pm – 6:26 pm.