The content is accurate at the time of publication and is subject to change.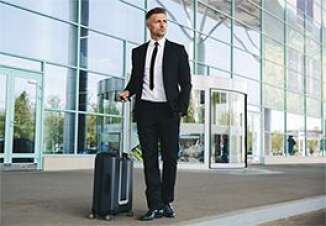 People with the Brex corporate credit card can now transfer points from the Brex rewards program to the TrueBlue loyalty program. With this new partnership, cardholders can use points to book tickets to more than one hundred destinations in the JetBlue portfolio, which includes destinations in the United States, the Caribbean, and Latin America.
Brex is excited to bring JetBlue onboard, and to celebrate they is giving away five roundtrip flights to cardholders who redeem the most Brex points for TrueBlue points between September 24, 2019, and October 24, 2019. The winners will be announced in November of this year.
"JetBlue is an innovative and exciting brand and Brex is thrilled to offer access to their valuable TrueBlue loyalty program within the Brex Rewards platform," said Henrique Dubugras, co-founder and co-CEO of Brex.
"JetBlue is one of the most popular airlines among the Brex customer base, with their deep route network in innovation hubs, commitment to free, high-speed Wi-Fi and friendly customer service. There is strong alignment between our organizations," he added.
Airlines taking part in Brex Rewards
JetBlue joins other airline loyalty programs taking part in the Brex rewards program, including Asia Miles, Air France/KLM Flying Blue, AreoMeixo, Qantas Frequent Flyer, and Avianca Life Miles. All the programs taking part in the Brex Rewards program offer a 1:1 transfer ratio to cardholders.
Brex added the miles transfer option to their program in July of 2019. The ability for cardholders to transfer points is due to a partnership with Ascenda, a global end-to-end loyalty solutions provider.
"The Brex offering stands out among corporate credit cards and brings an exciting customer demographic to JetBlue. We're excited Brex cardholders can now use their rewards points for points transfer into our award-winning TrueBlue loyalty program," said Don Uselmann, Vice President Loyalty and Personalization, JetBlue.
Earning points with Brex
With the Brex Credit Card for Startups cardholders earn 7x points when using rideshare services, and quadruple points when traveling, whether they are paying for flights, hotel stays or booking with Airbnb via Brex.
When eating out they earn triple points whether they visit a five-star restaurant or a local coffee shop. They also earn double points on reoccurring software spends, and all other purchases earn them one point per dollar.
People who want to know more about the Brex credit card can visit the website.