The content is accurate at the time of publication and is subject to change.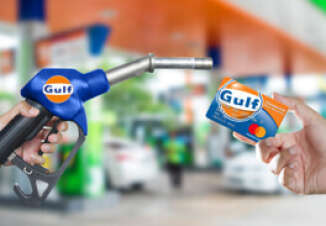 Gulf Oil and MasterCard are joining together to add Masterpass into Gulf Pay, its new mobile payment app. This new new initiative also incorporates P97's PetroZone mobile commerce platform into the app, letting people gassing up at Gulf stations not only find a station that is close to them, but then pay for their gas and anything else at the station from the app.
Gulf Pay is not yet available, but Gulf is planning to roll out a pilot program at Gulf stations in New York and New England markets during the spring of this year. Gulf Oil sees this next generation payment option as a way to give their customers more.
"Smartphones have become an integral part of our lives and the launch of the Gulf Pay app represents the next generation of payment options at our branded stations," said Nikki Fales, marketing manager at Gulf Oil. "By working together with MasterCard and P97, we will be able to deliver better solutions for our customers and merchants."
Security features
Masterpass is going to be integrated into the Gulf Pay wallet, giving the app another secure payment method, one that will act as a warehouse for all the payment information, whether that is card details, shipping information, or payment preferences.
To keep information safe from hackers and cyber thieves, Masterpass uses advanced security methods to safeguard data, including tokenization. With this method, when payments are made using a mobile wallet, instead of communicating personal financial information to the terminal, a token is created. The token is then transmitted to the terminal letting the payment go through.
Using Gulf Pay this means people will be able to make payments directly from their car, using the app.
"We know that consumers want to fuel up quickly and be on their way, so we've partnered with P97 and Gulf to deliver a frictionless payment experience to get people back on the road as fast as possible," said Linda Kirkpatrick, executive vice president, Merchants & Acceptance, Mastercard.
"The fuel category is a great example of where Masterpass can deliver the speed a consumer wants with the security they've come to expect from Mastercard."