The content is accurate at the time of publication and is subject to change.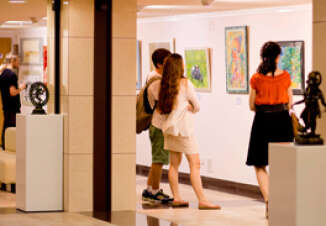 Bank of America has added some new venues to its annual Museums on Us program, offering Bank of America and Merrill Lynch credit and debit cardholders free admission to 150 museums, zoos, gardens, historical institutions and cultural hot spots across the U.S. People can take advantage of the program on the first full weekend of every month for the rest of the year. This is the 18th season for the program.
Get your culture on
Whether people want to hit the Anchorage Museum, the Denver Zoo or the Living Desert in Palm Desert in California, people don't have to sign up for the program. They just bring their credit or debit card to the venue, along with a valid photo ID to get one free general admission ticket.
There are some limitations - the program does not include ticketed shows, special exhibitions or fund raising events. A full list of venues is available on their website.
New destinations this year
For this initiative Bank of America has teamed up with a diverse array of cultural institutions including botanical gardens, aquariums, museums, and science centers. There are eighteen new additions to the program:
Albuquerque Museum of Art – Albuquerque, N.M.

Staten Island Museum – New York, N.Y.

Brooklyn Historical Society – New York, N.Y.

Aldrich Contemporary Art Museum – Ridgefield, Conn.

Artis Naples – Naples, Fla.

Center for Civil and Human Rights – Atlanta, Ga.

Morris Museum of Art – Augusta, Ga.

Orange County Museum of Art – Newport Beach, Calif.

Hill-Stead Museum – Farmington, Conn.

Museum of African American History Museum – Boston, Mass.

Worcester Art Museum – Worcester, Mass.

Arab American Museum – Dearborn, Mich.

Denver Zoo – Denver, Colo.

Cummer Museum of Art and Gardens – Jacksonville, Fla.

National Veterans Art Museum – Chicago, Ill.

Morton Arboretum – Lisle, Ill.

National Museum of American Jewish History – Philadelphia, Pa.

Blithewold, Mansion, Gardens & Arboretum – Bristol, R.I.
While the program is about bringing art and culture into people's lives, for Bank of America it's also about building economic development. "We believe the arts have the power to connect people and help local economies thrive," said Rena DeSisto, Bank of America global arts and culture executive. "For 18 seasons, Museums on Us has provided access to unique cultural experiences across the country and brought new visitors to our partner museums."