The content is accurate at the time of publication and is subject to change.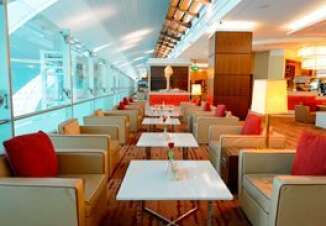 Travelers passing through JFK International Airport will be able to get some rest and relaxation at the new American Express Centurion lounge slated to open in early 2019. The new lounge will be located at Terminal 4, which is one of the busiest terminals in the U.S.
The lounge will take up 15,000 square feet, and span two floors, offering everything from beautiful airfield views and a unique design to special amenities and free perks.
"We're excited, to bring the Centurion Lounge to JFK, one of the top airports that our Platinum Card Members travel through each year," said Josh McKay, vice president and general manager, Global Benefits and Services, American Express.
"We look forward to continuing to expand this offering with the Centurion Lounge in JFK and more lounges to come," he added.
More to come
When it is closer to the launch date American Express will be announcing the special features that will go hand in hand with the lounge, but it will also include many of the tried and true features that are already found in many Centurion Lounges, including a free custom bar and food menu.
The lounge will also include:
High-speed Wi-Fi
Noise-buffering workspaces
Premium restrooms and shower suites
People will be able to find the lounge after they pass through security on the 4th-floor departures level in the terminal. "We are thrilled to be working with American Express to bring The Centurion Lounge to Terminal 4," said Gert-Jan de Graaff, President, and CEO of JFKIAT, the company which operates the terminal.
"Terminal 4 strives to provide passengers with a superior travel experience, and this lounge is a welcome addition to our existing mix of premium terminal amenities. We are excited to soon be able to offer passengers yet another service to take advantage of before departure or during a layover," he added.
Other Lounges
The new Centurion Lounge located in JFK Terminal 4 is just one of the lounges run by American Express. Their network also includes lounges in:
LaGuardia Airport (NYC)
McCarran International Airport (Las Vegas)
Dallas/Fort Worth International Airport
San Francisco International Airport
Miami International Airport
Seattle-Tacoma International Airport
George Bush International Airport (Houston)
Hong Kong International Airport
Philadelphia International Airport
Platinum cardholders get free access to the lounges. Platinum members may bring two travel companions with them to the lounge at no cost, while Centurion members may bring their immediate family or two companions to the lounge. Both classes of members may purchase passes for other guests for $50 a guest.