The content is accurate at the time of publication and is subject to change.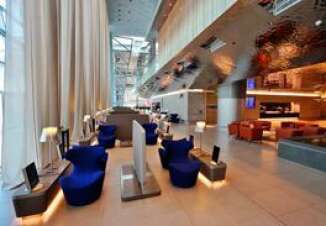 Travelers who pass through Heathrow airport when heading to London and Charlotte Douglas International Airport in North Carolina may well be happy to learn that American Express is opening new Centurion Lounges in both these airports. People who have the American Express Platinum credit card or who are Centurion members can get into these lounges and the others in the network for free.
Both lounges are firsts in their own way, with the Centurion Lounge being opened at Heathrow Airport slated to be the first one opened in Europe, and just the second lounge opened outside of the United States. It will open its doors in 2019. On the other hand, the Centurion Lounge at Charlotte Douglas Airport will be the biggest lounge in the entire Centurion lounge lineup and will open in 2020.
This move is seen as a way to give Platinum credit cardholders more of what they are looking for while traveling. "Both in business and their personal lives, our Platinum Card Members are living more globally, and we are committed to meeting them wherever they go. London has long been a top destination for our Platinum Card Members, so it makes perfect sense to bring our first Centurion Lounge in Europe to Heathrow," said Chris Cracchiolo, SVP, Global Loyalty & Benefits, American Express. Cracchiolo added, "We're also looking forward to bringing The Centurion Lounge to Charlotte Douglas International Airport, which is one of the biggest connecting hubs in the US," he added.
Let's chill out at Heathrow
When the Centurion Lounge opens at Heathrow airport in 2019, travelers will be able to find it in Terminal 3 and it will take up 7,000 square feet in the terminal. This lounge will include all the bells and whistles usually found in other lounges, including showers and private noise-buffering workstations. But they will also feature amenities inspired by London's culture and cuisine.
"We are really proud to welcome Europe's first Centurion Lounge to Heathrow. The lounge will offer a unique and premium experience for American Express customers and a comfortable haven, bringing to life the essence of modern British hospitality," said John Arbuckle, Head of Property at Heathrow.
Getting some R & R at Charlotte Douglas International Airport
Travelers will be able to get in some downtime at the Centurion Lounge at Charlotte Douglas International Airport in 2020. When it's finished it will be located after security on the top floor were Concourses D and E intersect, close to the airport's central Atrium.
It is the biggest lounge in the network, taking up 13,000 square feet, and features floor-to-ceiling windows where travelers can take in the downtown skyline. Here too all the usual amenities will be available, including complimentary food and beverages from top chefs, mixologists, and wine connoisseurs, inspired by the area's culture.