The content is accurate at the time of publication and is subject to change.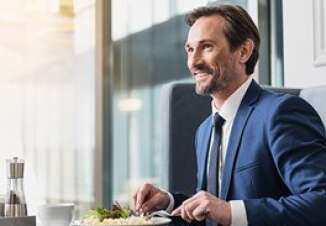 Travelers passing through Los Angeles International Airport (LAX) and Salt Lake City International Airport (SLC) now have two more restaurants to check out if they are Priority Pass members - Il Viaggio at SLC and P.F. Chang's at LAX. What's great about the restaurants in the Priority Pass line up is that members can order up to $28 in food and drinks for free. If they have a guest with them they also get to spend $28 on food too.
While there are more than 1200 Priority Pass lounges up and running around the world, these restaurants give member's another way to get in some rest and relaxation, as well as a good meal. The P.F. Chang's at LAX airport can be found at Tom Bradley International Terminal, and it's open from 11:00 am and 11:00 pm. On the other hand, Il Viaggio is located in Concourse D at SLC, and it is open from 6:00 am until 10:30 pm.
With both these restaurants, people will have to bring their card, along with a boarding pass confirming that they are flying that day to get their free meal and drinks. What if they forget their card? In that case, cardholders can check in digitally.
Priority Pass also recently added new lounges into the mix, with new lounges now located at Muscat Zurich, Frankfurt, and Copenhagen.
Paying for Priority pass members
First things first travelers can pay for a Priority Pass membership, which can cost up to $399 a year depending upon the membership option they choose to purchase. The least expensive option is $99 and gives members access to lounges for $27 per visit.
People who go for the Standard Plus membership pay $249 a year, and get 10 lounge visits for free, with all other visits costing them $27 each. Last but not least is the Prestige membership, which costs $399 a year, but gives travelers unlimited free access to the lounges.
To get more information about Priority Pass lounges and restaurants people can visit the website.
Getting free Priority Pass membership with your credit card
Do you want to get into lounges and forgo the membership fee? If so you just have to get the right credit card, because some credit cards include free Priority Pass membership.
What cards include Priority Pass membership? There are a variety of cards to choose from for this benefit, including The MasterCard Black card, Chase Sapphire Reserve, Hilton Honors Aspire Card from American Express, The Platinum Card from American Express, and the Ritz-Carlton Rewards Credit Card.