The content is accurate at the time of publication and is subject to change.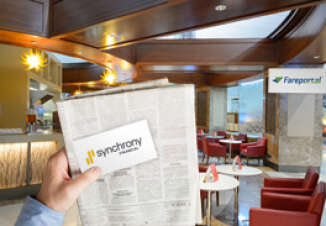 People will soon have a new travel card available - the Synchrony Financial Fareportal credit card. The new co-branded credit card includes six months special financing, along with access to exclusive benefits and rewards at well known travel sites and companies, including CheapOair and OneTravel.
This new relationship between Fareportal, a high-tech travel company, and Synchrony Financial is seen as a way to give travelers a more seamless way of utilizing their buying power when booking travel and shopping. Both companies have a commitment to using technology and innovation to enhance consumer experiences, as well as offering them a rewards and flexible options when it comes to financing travel and other purchases.
"Travelers are looking for great experiences and also for cheap flights,"- said Michael Culhane, CFO of Fareportal. "Our new relationship with Synchrony Financial offers our customers outstanding financing options and an enhanced loyalty program. Additionally, a co-branded card will allow our customers to use their card anywhere in the world to earn rewards."
Who is Fareportal
Even if Fareportal does not sound familiar, you probably already know some of their partners, since their lineup features a wide range of well-known brands, including CheapOair and OneTravel. With this partnership people will be able to choose between a CheapOair or OneTravel co-branded Dual Card.
Fareportal was designed to bring together two very different aspects of the travel industry – the online travel agency and a traditional travel agency. With this service people can book trips, airfare, rooms and cars using websites, and tablet/mobile apps, but they can also call their travel agents if that is more their speed.
Traveling with Synchrony Financial
This partnership with Fareportal comes on the heels of an announcement that they are also partnering with Cathay Pacific Airways to launch a new Visa credit card with the airline. Giving people access to a wide range of rewards and exclusive benefits when flying with the airline and using the card. This card is slated to launch in the beginning of 2017.