The content is accurate at the time of publication and is subject to change.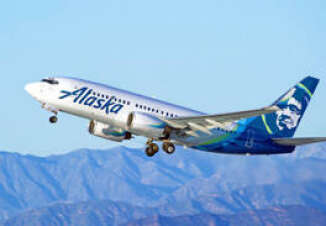 Alaska Airlines has announced that Virgin America, which it acquired in late 2016, will start using Alaska's logo and name starting at some point in 2019. But along with this integration comes expanded amenities, many of which Virgin American has become known for and some new ones including their enhanced in-flight entertainment, mood lighting, and music– all going in hand-in-hand with the carrier having a decidedly West Coast vibe.
Alaska Airlines is excited about the upgrades and expansion. "Our goal from the very beginning of this merger was to become the go-to airline for people on the West Coast, with low fares, convenient flights, a premium product and genuine, caring service," said Brad Tilden, CEO of Alaska Air Group. "Three months in, we've dramatically grown our presence in California and are united behind a new purpose: Creating an airline people love."
Music, high-speed satellite Wi-Fi and more
What can travelers expect with the integration of these two carriers? Music for one, with music from new artists being featured during flights, as well as in airport lobbies and at gates. And then there is the WiFi. By the fall of 2018 all of Alaska's Boeing 737 passenger aircraft will have high-speed satellite Wi-Fi, and all planes are expected to be wired up by the end of 2019.
Along with the free movies recently added to Alaska's in flight entertainment menu, people will be able to watch these movies on their own devices for free when flying on their Boeing fleet. And they will be available on the Airbus aircraft starting in August. Free chat has been available since the beginning of this year, letting people connect via Facebook Messenger, WhatsApp and iMessage, and it too will be available on Airbus aircraft in August.
First class passengers will be able to pick out their meals before hitting the tarmac by June, and by 2018 if you're flying in the main cabin you will be able to pay for meals beforehand.
They are also upgrading their lounges in Seattle, Portland and Los Angeles, while opening new ones in San Francisco and at New York's John F. Kennedy International Airport.
And in 2018 they will be unveiling a redesigned cabin, which will feature new seats. In keeping with this trend they will also adding in more more premium seats toward the end of 2018, and upping the number of first class seats by 50%.
With the first class seats including everything from 41 inches of pitch and improved seat-back storage pockets to adding in cup holders, footrests and personal power outlets throughout the cabin.
More premium seat upgrades
In 2018 Alaska Mileage Plan is going to be the unified carriers one and only loyalty program and more rewards are expected to go along with this integration. Much will remain the same including complimentary upgrades, and award trips beginning at 5,000 miles one-way, but with the expansion of premium seats on the Airbus fleet there is a change to upgrades.
They also point out that they typically upgrade Mileage Plan MVP Golds and above get upgraded to first class or premium class seats about 75% of the time. And now for the first time they will be offering complimentary upgrades when traveling on Airbus aircraft in the later part of 2018.