The content is accurate at the time of publication and is subject to change.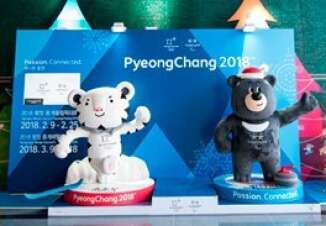 The 2018 Olympic Winter Games in PyeongChang, South Korea, is coming, and to get things off to a great start Visa is rolling out gloves, commemorative stickers and Olympic pins enabled with NFC technology so people can use them to make payments while they are at the games. These prepaid wearable devices can be used with just a tap at terminals that are enabled with contactless technology.
Both fans and athletes can use the wearable devices while at the Olympics, which are taking place between Feb 9, 2018, and Feb 25, 2018. Visa is the exclusive payment technology partner for both the Olympic and Paralympic Games. "We are looking forward to transforming the payment experience for everyone who attends the upcoming Olympic Winter Games in PyeongChang," said Iain Jamieson, Korea country manager at Visa.
"At Visa, we have been working tirelessly to ensure all of the Olympic venues are equipped with the very latest payment capabilities to provide the best experience possible for all those on-site," he said.
The low down on the wearable gear
There are four Commemorative Olympic lapel pins available, with each one featuring an exclusive PyeongChang 2018 design, which can double as a collectible after the Olympics.
Do you want to pay with a swipe of your gloves and stay warm? If so, you may want to grab a pair of payment-enabled gloves. People will be able to cash out at the register without taking off their gloves because they are embedded with a dual interface chip housed with a contactless antenna, which can complete transactions at official Olympic Venues, as well as compatible readers around the world.
Last but not least, are the stickers which come in eight designs, including the Korean flag and Soohorang, PyeongChang 2018's official mascot. The stickers are thin and flexible, as well as being embedded with dual interface NFC-chip and antenna. The sticker can be attached to just about anything and used to make payments.
Getting the gear
In order to create the payment gear, Visa partnered up with Lotte Card, which is the financial branch of the South Korean-based retailer Lotte Department Store. Before the Olympics people can buy the wearable payment gear at Lotte Card's customer centers, as well as via the Lotte Card website. And when the games go live people can buy them at the Olympic Superstores where they can be found in the Visa vending machines.
"It is important to me, as a Winter Olympian, to work with a brand like Visa that not only supports a diverse group of athletes but also enables an enhanced fan experience for those at the Games," said Mikaela Shiffrin, USA Olympic gold medalist, and Team Visa athlete. "Olympic pins are always the most coveted collectibles, these Visa pins really up the ante," she said.