The content is accurate at the time of publication and is subject to change.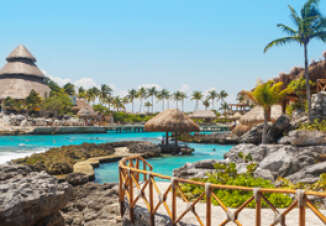 Beaches, hot weather and fun are still a top priority for travelers this spring break, according to Allianz Global Assistance, a travel insurance provider, with Cancun and Orlando taking the top spots on their list of top domestic and international destinations.
When it came to domestic getaways, their data showed that the top ten picks for travel during the season are Orlando, Las Vegas, Phoenix, Fort Lauderdale, Los Angeles, Fort Myers, Denver, Salt Lake City, San Francisco and Tampa.
But what about those looking to head to an international local? Cancun is the top pick, but it was followed by Cabo San Lucas, Mexico; San Juan, Puerto Rico; Punta Cana, Dominican Republic; Puerto Vallarta, Mexico; London, United Kingdom; Montego Bay, Jamaica; Aruba Island, Aruba; Nassau, Bahamas; and St. Thomas, U.S. Virgin Islands. All of them, with the exception of London, give travelers some access to fun in the sun and outdoor activities, when heading out of the U.S.
The top travel day for spring break is…
Wondering what the top travel day is? Here too Allianz had an answer showing that 10% of travelers will be heading out on March 11, 2017.
According to Allianz traveling early in the week is the best bet for getting through the airport easier. "The review showed a good mix of beach, skiing and well-known destinations attracting Americans for spring break this year," said Daniel Durazo, director of communications for Allianz Global Assistance USA.
"Our statistics showed that most people are traveling mid to late in the week. To avoid long lines at the airport and other inconveniences, we recommend booking travel for a Monday or Tuesday."
To compile their list, Allianz Global Assistance took a close look at the over four million trips which were planned by their clients during spring break season beginning February 24, 2017 and going all the way through until April 9, 2017. These trips were all booked for five to eight days.
Allianz Global Assistance USA specializes in providing customers with a wide range of specialty insurance, but they are probably most well known for their Allianz Travel Insurance plans.