The content is accurate at the time of publication and is subject to change.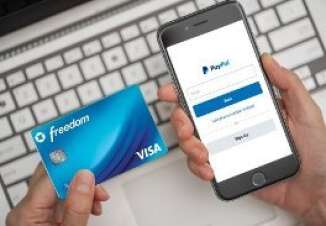 PayPal is the newest bonus category for Chase Freedom, earning cardholders 5 percent cash back starting in April and going through June 2018. During that time, they will also earn 5 percent back when using Chase Pay and when shopping for groceries. All other purchases earn at the base rate of 1 percent back.
Adding PayPal into the mix is a way to give card members more options when it comes to paying. "We keep adding ways to make Chase Freedom even more rewarding for our cardmembers," said BJ Mahoney, General Manager of Chase Freedom.
"They can earn cash for everyday expenses whether they pay with their phone, on the internet or in store with their familiar blue Chase Freedom card," he added. Cardholders can activate these categories for the coming quarter starting on March 15th.
The bonus categories
When using PayPal, you can earn cash back at a wide range of retailers, whether you are shopping online, using a mobile device or shopping with an app. PayPal can be used at over 18 million businesses globally and includes large, mid-sized and small retailers and companies.
Cardholders can use Chase Pay via the app, as well as when shopping online and through third party apps.
When cardholders are buying groceries, they earn cash back if they are out and about shopping at brick and mortar grocery stores or using online grocers that deliver food directly to their home.
Card members can earn 5 percent cashback on up to $1,500 in combined purchases per quarter. More information about these categories and the retailers that are participating can be found by visiting the Chase website.
Chase Freedom
With the Chase Freedom card, you can earn a $150 bonus after spending $500 during the first three months as a cardholder. You'll earn 1 percent back on all purchases, and every quarter you earn 5 percent back in select categories.
Cash back rewards do not expire, and there is no annual fee for this card.
The Chase Freedom card also comes along with additional benefits, including:
Zero Liability Protection
Purchase Protection
Extended Warranty Protection
Fraud Protection
Fraud Alerts