The content is accurate at the time of publication and is subject to change.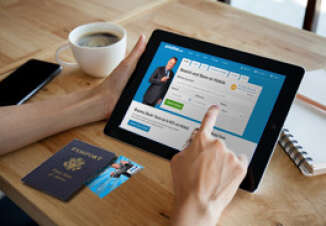 For many people nothing says discount travel better than priceline.com, except maybe earning rewards with the Priceline Rewards Visa card. Barclays, the issuer, has announced that they will be extending their relationship which allows cardholders to earn five points per dollar when buying airfare, hotels, car rentals or vacation packages via the website.
Barclays US and Priceline first partnered in 2009 by offering the Priceline Rewards Visa card. "Since 2009, priceline.com has been one of our fastest-growing travel portfolios. We share a mutual commitment to providing great value and service to our customers. We look forward to building on our shared success in the years to come," said Ann-Marie Archino, director of travel and entertainment partnerships, Barclays US.
The skinny on the card
When signing up for the Priceline.com rewards Visa card people get 5,000 bonus points when they make their first purchase, translating to a $50 statement credit which can be used for a purchase of $25 or more. But it must be redeemed for something within a 120 day window, and of course it can be saved for a bigger purchase.
Along with the five points per dollar spent on priceline.com, people also earn one point per dollar on all other purchases. When redeeming points people also get 10% back when using those points for travel related purchases made on priceline.com, which includes everything from air tickets, hotel stays and campground fees to renting a car, tourist attractions and cab fare. All in all, this means if you redeem 50,000 points for a trip, you will be issued 5,000 points as a bonus, which can be used toward another purchase.
There is no annual fee for the Priceline Visa Card, and cardholders are not charged any foreign transaction fees when traveling outside the U.S.
In keeping with the new EMV technology being integrated into credit cards in the U.S., this card is chip enabled and can be used at terminals in the U.S. and overseas.