The content is accurate at the time of publication and is subject to change.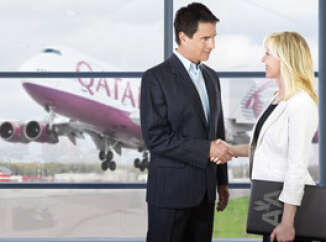 American Airlines and Qatar Airways inked a deal this week expanding their frequent flyer programs. Under the new agreement, American Airlines AAdvantage and Qatar Privilege Club members can now earn or redeem miles when they book a flight using either carrier.
This is not the first time these airlines have partnered up. This new arrangement builds on a codesharing deal struck at the beginning of the year, which allowed the carriers to co-market 170 routes giving both airlines a wider reach and offering travelers more flight options in the United States, Europe and the Middle East.
"This expansion of our relationship with Qatar is another example of how American is focused on strengthening its global network through building strategic partnerships with other airlines, all while meeting the needs of our most loyal customers," according to Suzanne Rubin, American's President – AAdvantage Loyalty Program.
In a previously announced deal, on October 30th Qatar will become the first airline based in the Gulf region to become part of the oneworld alliance, which currently has 13 member airlines including American. Qatar will be the second one based in the Middle East. The addition will offer access to five countries including Ethiopia, Iran, Rwanda, Serbia and Tanzania and more than 20 new destinations.
Qatar Airlways was founded in 1993. They have 250 aircraft including Boeing 787s, 777s, Airbus A350s, and A380. The airline flies to 130 destinations located in the Middle East, Europe, Africa, North and South America, Asia, and Australia with over 1,000 flights a week fly out of Doha, where the airline is headquartered, traveling to 22 cities, including New York, Chicago, Houston and  Washington. In 2011 and 2012 they were named airline of the year during the Skytrax World Airline Awards.
American Airlines offers 3,500 flights a day to 260 airports in more than 50 countries. The carrier has 900 aircraft in its fleet, with 500 more slated to join them, including the Boeing 737 series, Boeing 777-300ER and the Airbus A320 series.