The content is accurate at the time of publication and is subject to change.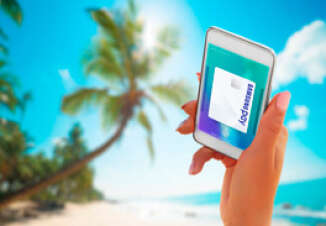 Puerto Rico is known for its beaches and hospitality, and now people living on the island will be able to to use Samsung Pay to make purchases with a tap when buying everything from dinner out and late night drinks to groceries and taking in a movie.
To make Samsung Pay to Puerto Rico a reality, Samsung Electronics teamed up with Banco Popular, so that all eligible credit cards in their portfolio will support their mobile wallet. The new service will work across a wide range of smartphone carriers on the island, including AT&T, T-Mobile, Sprint and Claro networks.
"We're excited to partner with Banco Popular to bring Samsung Pay to Puerto Rico," said Thomas Ko, Vice President and Global Co-General Manager of Samsung Pay at Samsung Electronics. "With Samsung Pay, you can shop in Puerto Rico right from your phones at retail chains and independent businesses – the stores you already know and love. With the widest acceptance, Samsung Pay works almost anywhere you scan swipe or tap a card."
Using Samsung Pay
With Samsung Pay people can make purchases with their Samsung phones at most payment terminals, whether they are enabled with the older MST (Magnetic Secure Transmission) or the newer NFC (Near Field Communications) technologies. The fact that this mobile wallet can be used at terminals that use swipe based technology gives users more flexibility when it comes to making payments with their phones.
To get started people open the Samsung Pay app, pick out which credit or debit card they want to use, and then their phone transmits a token to the terminal letting the sale go through once the user approves it using their fingerprint scan.
What about security? The mobile wallet includes three different security mechanisms to thwart hackers and keep users data secure-Samsung KNOX, fingerprint authentication, and tokenization.
Samsung Pay can be used across a wide range of Samsung phones and devices such as the Galaxy S6, Galaxy S6 Active, Galaxy S6 edge, Galaxy S6 edge+, Galaxy Note 5, Galaxy S7, Galaxy S7 Active and Galaxy S7 edge.
In Puerto Rico availability is dependent upon which local operator they are using to power their phone.