The content is accurate at the time of publication and is subject to change.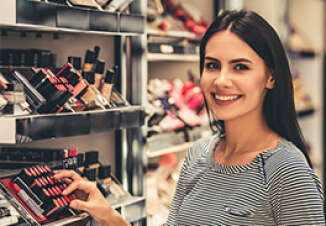 People who shop at Sephora maybe happy to find out that during the coming months the beauty chain will be launching three new credit cards - the Sephora Credit Card, Sephora Visa Credit Card and Sephora Visa Signature Credit Card. This is the first time Sephora has offered credit cards. Each of the cards will give cardholders a way to earn rewards while shopping at Sephora. While the Visa cards will give cardholders access to a variety of extra perks and benefits.
During the springtime, they will be offering the Sephora Credit Card and Sephora Visa Credit Card in certain cities, and then during the following months, they will begin offering the cards in all their stores in the U.S, and via Sephora.com.
"The launch of the Sephora Credit Card exemplifies Sephora's loyalty philosophy in every sense; it considers all the most-loved aspects of Sephora - the amazing product, services, experiences, and personalization - taking our client experience to the next level through special access, rewards, and perks," said Andrea Zaretsky, Sephora's Senior Vice President of CRM and Loyalty.
"The Sephora Credit Card was the natural next step in our loyalty journey, truly adding even more value that our clients can use not only within our stores but also in their day-to-day lives."
Earning rewards and more
People who opt to get these cards will earn rewards, as well as being able to earn rewards through the Beauty Insider Program, which is the retailer's already existing loyalty program. New cardholders who are not a part of the Beauty Insider Program will automatically be enrolled in the program.
People who get the Sephora Visa Signature credit card will be able to take advantage of benefits that come along with being a part of the Visa network.
Partnering with Alliance Data
In order to launch their credit cards go live Sephora has teamed up with Alliance Data, as well as having partnered with Visa. "We are delighted to partner with Sephora, a beauty industry trailblazer, to deliver marketing and loyalty-driven payment solutions that will provide increased value, exceptional experiences, and further extend the relationship between Sephora and their cherished clients," said Melisa Miller, president of Alliance Data's card services business.
People who want to get more information about Sephora and their rewards program can visit the website.